We have already seen news of a new AOC Ultra-Wide monitor today, now here's a new monitor from EIZO that will appeal to those that are thinking "enough with the ultra-wideness already". The EIZO FlexScan EV2730Q is a 26.5-inch square monitor with a square 1:1 aspect ratio and a resolution of 1920 x 1920 pixels.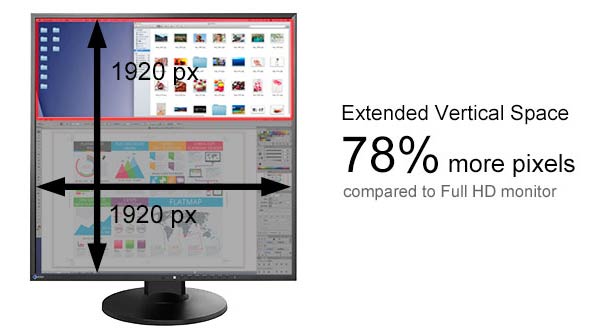 EIZO says that its new monitor is "wide all around". It's 1920 x 1920 pixel square resolution is said to offer 78 per cent more pixels than a traditional Full HD monitor. "The extended vertical space is convenient for displaying large amounts of information in long windows, reducing the need for excess scrolling and providing a more efficient view of data," the firm writes, attempting to persuade us of the square aspect EV2730Q monitor's utility value.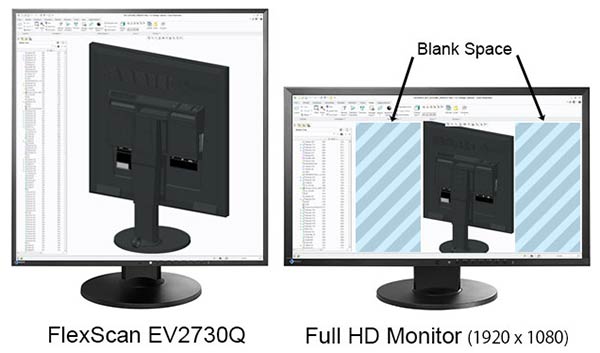 EIZO FlexScan EV2730Q specifications
Panel: non-glare 26.5-inch 1920 x 1920 pixel IPS with LED backlight, pixel pitch of 0.2478mm, 16.7 million colours, 178 degree viewing angles, 300cd/m2 brightness, 1000:1 contrast, 5ms g2g response time
Video Connections: DisplayPort x 1 DVI-D 24 pin x 1 (with HDCP), 31 - 127 kHz, 59 - 61 Hz (VGA Text: 69 - 71 Hz, Single link: 29 - 31 Hz), USB 2.0 hub
Sound: Stereo 1W + 1W, 3.5mm stereo jack, 3.5mm headphone jack, volume controls, source select
Power use: Max 64W, typical 25W
Dimensions: 497 x 501.5 x 56 mm without stand (can use 100 x 100mm VESA mount), 497 x 512.5 - 613.5 x 245 mm with stand
Weight: 4.2Kg without stand, 7.1Kg with stand
View modes: sRGB, Movie, Paper, and two modes with user-adjustable settings
Adjustments: 101mm height adjustment, 35° Up, 5° Down tilt, 344° swivel
Warranty: 5 years on all components
A few screenshot examples, which are said to illustrate the wide from all angles monitor's superiority in various apps, are shown below. Some are more convincing than others and you can check out a 12 app gallery here (scroll down a bit). I quite like the look of the Full HD video editing layout but some tasks could arguably fit/work just as well on ultra-wide or multi-monitor side-by-side setups.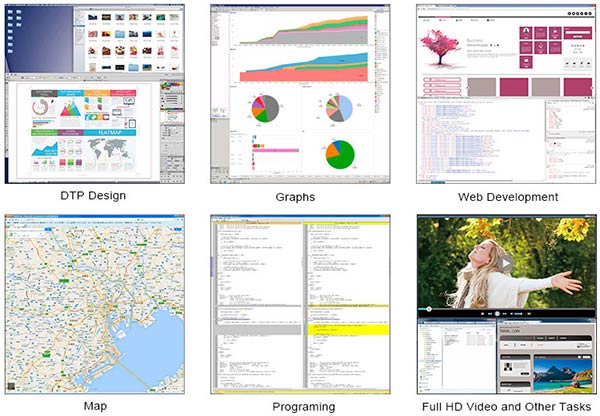 The monitor also offers flicker-free and reduced blue light features to avoid tiring users' eyes. The LED backlighting produces a wide dimming range all the way down to 1 per cent of maximum brightness. Brightness can be set to adjust automatically depending upon the environment, thanks to EcoView Optimizer 2. Furthermore, to help you conserve energy, a presence sensor detects when you leave your desk to automatically switch to power saving mode then back on when you return.
The FlexScan EV2730Q will be available from Q1 2015, depending upon your region. We weren't given any pricing indications.