BenQ 30.1-inch LCD display with multiple inputs

Apple and Dell's 30-inch WQXGA LCD monitors are almost perfect in every regard. Huge screen real estate, insane resolution, and fantastic image quality make them desirable to a wide range of buyers. One flaw, though, is in the lack of inputs. Both Dell and Apple's screen feature only a DVI-D (dual-link) input and not much else.

Walking across the enormous BenQ stand in Halle 1 we stumbled across another 30-inch WQXGA display with multiple inputs.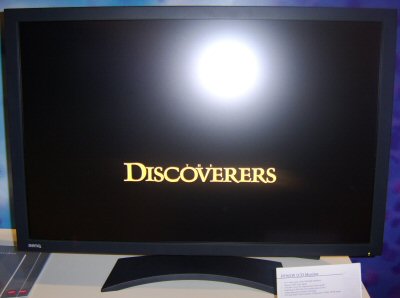 Nothing too remarkable to look at from the front, the BenQ FP301W's panel is made by an LCD manufacturer in which BenQ has a 30% stake. A grey-to-grey response time of 11ms, brightness of 400cd/m, a contrast ratio of 700:1 is around average for a panel of this size.





The range of buttons down the right-hand side indicates input switching, although the panel, being a prototype model, only featured DVI-D. BenQ is adamant that its 30-inch LCD monster will have DVI-D, D-Sub, Composite, Component, S-Video, and HDMI. Good news for the many readers that need additional inputs on a super-large screen. The display will also feature a built-in USB2.0 hub.

BenQ claims that the FP301W will be available to the retail channel some time in Q3/Q4 this year.