Low-response screens for laptops

BenQ, the Taiwanese manufacturer that recently diversified into producing a range of notebooks under the banner of Joybook (oooh, errrr), claims to have incorporated laptop panels with the world's lowest (ie fastest) response time, as measured from grey-to-grey time in milliseconds.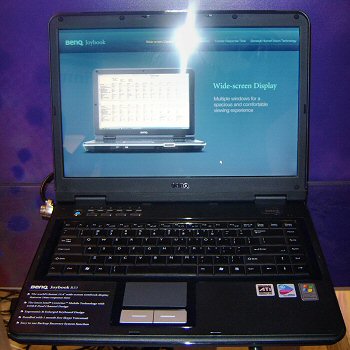 The high-end mobile GPU war between ATI and NVIDIA continues unabated. It's now possible to buy a medium-sized laptop and really play some of the latest games with high degrees of image quality added. What's let a number of gaming-orientated laptops down is the qualify of the screens. These are often compromised by instances of blurring in fast-paced games, caused by inherently high (ie slow) response times.

Most laptops ship with panels having response times of 25ms or more. BenQ claims a 16ms time for its Joybook panels, achieved by a manufacturing technology that reduces the viscosity of the crystals that make up a display, allowing for faster-switching crystals (achieved by the lower resistance resulting from lower viscosity) and, consequently, a lower response time. The end result is said to be laptops that are well suited to gamers who demand superlative mobile performance - from the screen as well as the GPU and all other components.