There are certain trends in monitor design - a 16:9 aspect ratio and a poor selection of inputs to name just two - that are deal-breakers for a lot of customers. Unfortunately, many displays are now focusing more on media playback, much to the chagrin of some PC users and digital professionals.
This can't be said about LaCie's latest release, though as the new 324i professional monitor seems to right many of these wrongs.
The 24in P-IPS monitor features a 16:10 1,920x1,200px resolution and a list of specs that is sure to make photographers and designers very happy. The 10-bit display boasts the ability to show 102 per cent of the NTSC colour gamut and 98 per cent of Adobe RGB for superlative accuracy.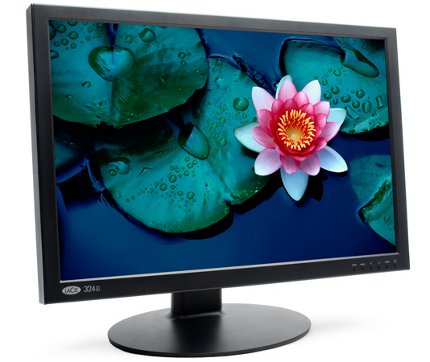 The high-quality panel also allows for 178° viewing angles and a contrast ratio of 1,000:1 for deep blacks from wherever you're sitting.
The manufacturer has gone all-out with the display inputs too, equipping the 324i with DisplayPort, DVI-D, HDMI and even component connections. There are even three USB 2.0 ports for easily linking other devices to the computer.
To round the package out, LaCie is offering a series of professional calibration tools and software that should make perfectly calibrating the screen a doddle.
Obviously, quality doesn't come cheap, and at £1,099 (inc VAT) for a 24in monitor, the 324i is a pricey alternative to models offered by the competition. Nonetheless, professionals with deep pockets will surely appreciate the manufacturer's attention to quality.
The display is available immediately from LaCie's website and should be shipping from select retailers soon.