LG is teasing its upcoming "spectacular monitor lineup" heading for launch at the CES 2017 next month. The flagship LG 32UD99 monitor, headlining its press release, is a 32-inch UHD 4K monitor which supports the HDR10 standard and displays over 95 percent of the DCI-P3 colour space. Read on for more info about this and other shiny new LG monitors.
LG 32UD99
This HDR compatible 4K monitor "boosts productivity and offers enhanced gaming experience, catering to both work and play," claims LG. The HDR enhanced picture provided by this monitor is "instantly recognizable to even the most casual user," said an LG USA executive. Its 34-inch 3840 x 2160 pixel screen provides enhanced brightness levels, more shadow detail and a wider colour gamut than traditional IPS panels. Specifically this monitor is claimed to offer 95 percent of the DCI-P3 colour space. That's great for content creators, film and TV show watchers, and gamers alike.
The 32UD99 (pictured below left) features ultra-narrow bezels to four sides, USB Type-C connectivity, LG rich bass technology, and comes with LG's slim ArcLine stand.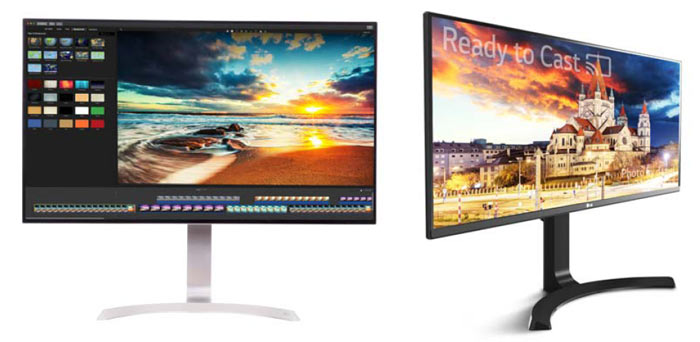 LG 34UM79M
The LG 34UM79M is a 34-inch 'UltraWide Mobile+ Monitor'. What probably earns it that particular moniker is being Chromecast enabled out of the box (it is pictured above right). As many tech and TV enthusiasts will know, Google's Chromecast is a quick and convenient way to send entertainment app content from your phone's small screen to a big screen, usually a big HDMI TV.
Enhancing this monitor's ultra-wide display functionality is the ability of PCs and mobile devices to share a single screen in PBP, PIP modes. Furthermore, the PC and smartphone/tablet can be controlled via a single keyboard and mouse via LG Dual Controller Plus. An LG Mobile+ Monitor application allows users to control many of the monitor's settings such as input, volume, aspect ratio, PBP/PIP, etc. remotely
LG 34UC99
Last but not least LG will be showcasing its 34-inch 21:9 UltraWide curved gaming monitor at the upcoming CES. This gaming monitor features AMD FreeSync technology, 1ms Motion Blur Reduction, Dynamic Action Sync, Black Stabilizer and more for your gaming pleasure.
LG's UltraFine 27-inch 5K and UltraFine 21.5-inch 4K monitors will also be on show. CES 2017 runs from 5th to 8th January 2017.