2009's COMPUTEX trade show may have drawn to a close, but the relentless HEXUS coverage is anything but over.
With our feet back on UK soil, we're taking a look back at some of the week's other new products and we're starting today with DFI's LanParty UT P55-T3eH10 - one of the company's upcoming P55-based boards for Intel's Core i5.
We've seen no shortage of P55 boards this week - and we managed to sneak in a H57 board, too - so why are we turning the spotlight to DFI's derivative? The answer's in the attached USB cable: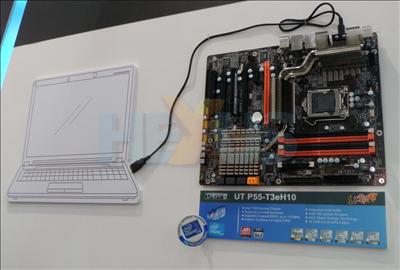 DFI's board is equipped with a technology that the Taiwanese outfit has dubbed BIOSecure. What it does is allow users to flash a board's BIOS remotely from another system connected via mini USB. Oh so simple, and the board doesn't even need an additional power source.
Mighty useful if you've had a BIOS update gone wrong, and it creates a simple means of at least attempting to resurrect a seemingly dead board. DFI looks set to introduce the patented tech on its P55 boards, and we'd expect to see it on many of the company's other boards shortly after.