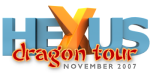 Whilst traipsing around the industrial environs of Taipei, HEXUS stumbled upon the abit headquarters, bluffed our way past the security guard and ended up at the reseach and developement department, as you do.

Now it's a known fact that abit's performance Intel X38 chipset-based motherboard, the IX38 QuadGT, has only recently been introduced to market, well behind competitors' efforts. abit will cite the DDR2-only board's FSB1600 guarantee - ensuring compliance with the recently-announced Intel Core 2 Extreme QX9770 - as reason enough to choose it over others, but late is never good, right?



So why is abit's Thore Welling. refulgent in a figure-hugging polo shirt, looking so vivacious?



The answer lies with abit's IX48-MAX motherboard, based on the soon-to-be-announced Intel X48 high-end chipset. The X48 packs in official support for upcoming (Yorkfield-based) 1600MHz FSB processors and should provide a slew of performance-oriented options in retail boards' BIOSes. Other than that, it's mostly X38 fare, including 2 x PCIe 2.0 x16 graphics-card slots, ICH9R southbridge and support for XMP memory.

abit's IX48-MAX will be a DDR3-1600-supporting motherboard, highlighting the performance and, dare we say, expensive nature of the enthusiast platform.



Being a MAX-series board, abit adds in its OTES cooling, replete with huge heat-pipe-driven northbridge heatsink. The board is also a beneficiary of higher-quality capacitors than the X38's, we note.



Will it be worth the £200 price-tag once it launches in January 2008? Does it offer enough of a performance boost over an X38 chipset-based motherboard to warrant the additional expenditure. Just how well will the new chipset overclock? These are some of the questions that we'll answer as soon as we have it back in the labs. Unfortunately for us, Thore was rather too vigilant in guarding the sample.