Lenovo has announced an expanded and updated X1 product portolio. Perhaps the cornerstone of the range is the award-winning ThinkPad X1 Carbon Ultrabook laptop, which was well received at CES last year, and won a HEXUS recommended award when we reviewed it in September. Now Lenovo has announced several updates to the ThinkPad Carbon X1 Ultrabook, and a bevy of other X1 devices which it undoubtedly hopes will share the same successful DNA. The range of new X1 devices includes the aforementioned updated Ulktrabook plus a good number of accessories, the ThinkPad X1 Tablet, the ThinkPad X1 Yoga, the ThinkCentre X1 AIO and the ThinkVision X1 monitor.
ThinkPad X1 Carbon (from $1299, Feb 2016)
The 14-inch ThinkPad X1 Carbon is "thinner, lighter and more powerful than ever," claims Lenovo. After listening to and considering user feedback, a large number of improvements have been implemented, we are told. Buyers will now have a greater choice of display configurations, more memory, expanded storage capacity, and improved connectivity. Specifically you can now buy it with; an up to 1TB high-density low-power Samsung M.2 NVMe SSD storage built-in, Qualcomm Snapdragon X7 LTE modem with 4G LTE Advanced, fast and secure WiGig wireless docking, a Touch Fingerprint reader and Trusted Platform Module (TPM) security chip, all in a tough and durable chassis. The total weight of this laptop is just 1.18Kg.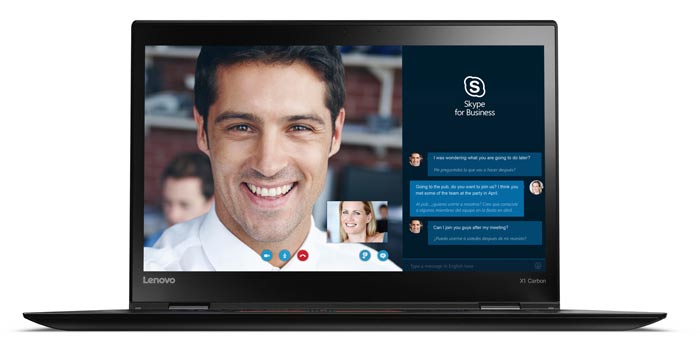 Complementary accessories for the ThinkPad Carbon X1 are plentiful with the newly announced wireless touch mouse, in-ear Dolby headphones, X1 sleeve, plus smaller lighter power adaptor available.
ThinkPad X1 Yoga (from $1449, Jan 2016, OLED models from April)
Lenovo has announced the ThinkPad X1 Yoga which it claims is "the world's first convertible featuring an optional Samsung OLED display". When you transform this convertible to a tablet the keyboard locks into place and keys retract into the body to present a smoother subsurface. Furthermore it features an active pen which is charged and housed inside the chassis.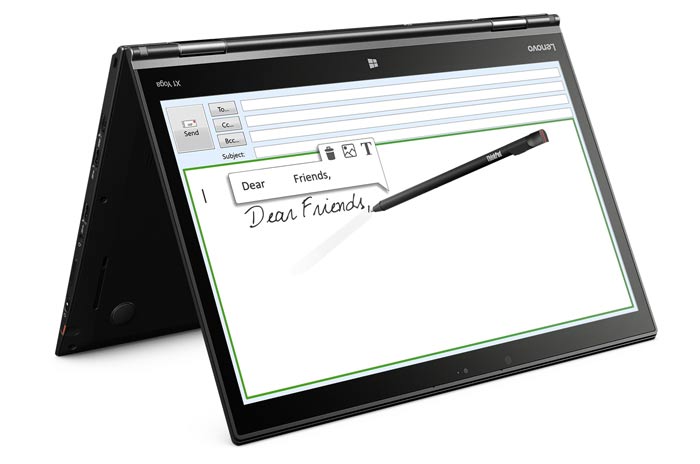 ThinkPad X1 tablet (from $899, Feb 2016)
The ThinkPad X1 tablet is highlighted by Lenovo as being particularly innovative. Most of that boast is down to the tablet's modularity. You can expand its capabilities with 'simple clip-on additional modules'. As Lenovo quizzes;
Need more battery? The Productivity Module increases use up to 15 hours total
Ready to present? The Presenter Module includes a pico projector and HDMI port
Creating in 3D? Add the 3D Imaging Module with its rear-facing Intel RealSense camera
You can pair the tablet with a full size ThinkPad keyboard with three adjustable typing angles (plus classic TrackPoint), weighing a combined total of 1.1Kg. To enhance your portable computing experience the tablet features LTE Advanced support.
ThinkCentre X1 AIO (from $1029, March 2016)
This is an AiO PC based around a 23.8-inch anti-glare, wide angle viewable, screen which contains the computer in its 11mm thick chassis. Some will find its dust-resistance appealing - Lenovo reckons it should withstand 10 years or so of dust accumulation without sweat.
ThinkVision X1 (from $799, March 2016)
Rounding off the range Lenovo has announced the ThinkVision X1 monitor. This is a 27-inch UltraHD edge-to-edge anti-glare display. It is boasted that the monitor is just 7.5mm thick. Lenovo says that it is the world's first monitor to receive the TUV Eye-Comfort certification. As well as the more usual monitor connections Lenovo has equipped a USB type C port, apparently "providing the perfect complement to the ThinkPad X1 Tablet".
Lenovo's announcements don't end there. As well as the above X1 computers and devices it has updated and expanded its ThinkPad T range, ThinkCentre range, Think Vision range and YOGA and Miix ranges.