High-quality-PC box-shifter Medion is readying to launch in the UK an ultra-mobile PC (UMPC) - the

MD96211

- running Windows Vista Home Premium and priced at £799 (inc VAT).



That looks pretty appealing until you realise that the same model will go out in Medion's home market, Germany, for a rather keener €999 (equivalent to £678) and in the USA for just $999 - the equivalent of £588 even after adding VAT at 17.5% to the $ > £ conversion figure of £500.

Specs look much the same where ever you buy and are headlined by a 6.5in, 800x480 backlit touchscreen TFF display; a 1.0GHz VIA processor, the C7-M 770 ULV, with 400MHz FSB; 768MB of DDRII RAM; a 30GByte hard disk; and graphics from a VIA UniChrome Pro II GFX.

The unit weighs in at 740g including batteries and measures just 190(w) x 121(d) x 28.3(h) mm when closed.

Wireless networking (802.11b/g) and Bluetooth 2.0 are both built in, as are a webcam and microphone and a basic card-reader able to handle SD, SD-IO and MMC.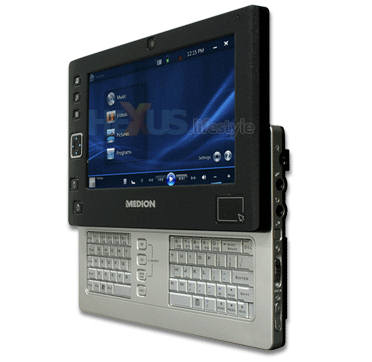 Slide-away keyboard
Now you see it...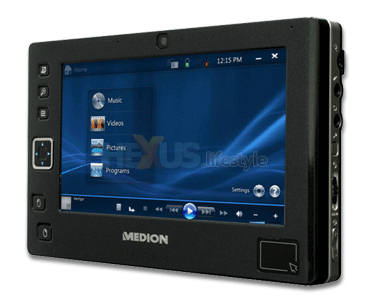 ...now you don't





Features and specs listed by Medion take in:





Overview




*Windows Vista Home Premium with Touch Pack
* VIA C7-M 770 ULV processor (1.0GHz, 400MHz FSB)
* VIA UniChrome Pro II GFX
* 6.5in WVGA TFT touchscreen with LED backlight (800x480px)
* High definition audio with integrated loudspeaker
* 30GB hard disc
* 768MB DDRII RAM
* Wireless LAN 802.11b/g with up to 54 Mbit/s
* Integrated Bluetooth 2.0 + EDR module
* Integrated webcam & microphone array (suitable for video over IP)
* SD/SD-IO/MMC card reader
* External AC adaptor & lithium polymer battery VDE/GS approved
* Synchronise your UMPC with you desktop PC or notebook
* Transfer data from your MP3 player or digital camera via an SD or MMC card using the memory-card slot
* Connect your mobile phone via Bluetooth
* Connect to a projector via the VGA port
* Share files via USB port




Connections





* 2 x USB 2.0
* 1 x DC-in
* 1 x Docking
* 1 x IEEE 1394 FireWire
* 1 x VGA out
* 1 x SD/MMC card slot
* 1 x audio out
* 1 x microphone in




Supplied software





* Windows Vista Home Premium
* Microsoft Works 8.5
* Nero Burning Rom & Recode SE




Weight & dimensions





* Dimensions: width 190mm x height 121mm x depth 28.3mm
* Weight: 740g including battery




Supplied accessories





* Lithium polymer battery
* External AC Adaptor




Warranty





* 12 months



The big question, though, is whether this might be too little, too late. Significant changes are afoot in the UMPC world, as shown by a report we filed from the Intel Developers Conference in Beijing, New Ultra-Mobile PC form factor is squashed Centrino.


Thoughts on UMPC and this latest example of rip-off Britain? Be keen to hear 'em in the HEXUS.community.


HEXUS.links
HEXUS.community :: discussion thread about this article
HEXUS.net - IDF 2007 :: New Ultra-Mobile PC form factor is squashed Centrino
HEXUS.net - IDF 2007 :: Intel Developers Conference, Beijing all HEXUS coverage

External.links
Medion UK - MD96211 home page