Microsoft has announced that it is shipping two new Surface Pro 3 models. In addition to the original Intel Core i5 version, the company has added Core i3 and Core i7 options. Both of these variants are now on sale in the U.S. and Canada.
This is the first time Microsoft has offered such a wide range of configurations for its Surface series. According to the Surface blog, the new models were added to provide consumers more customised options when deciding which Surface Pro 3 is right for them by giving them more choice on processor, memory and storage.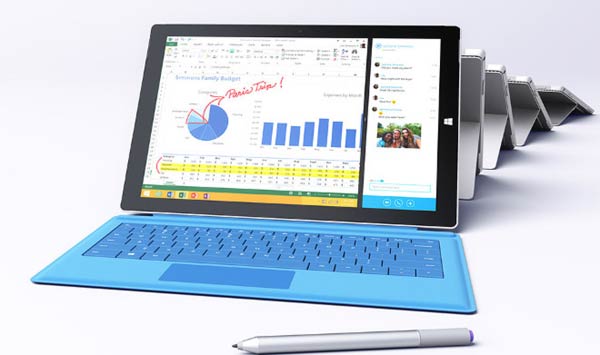 The Surface Pro 3 tablets all feature a 12-inch ClearType display with a 2560x1440 resolution and 3:2 aspect ratio, 4/8GB RAM, 64-512GB of internal storage, Wireless AC or Wireless N connectivity, Bluetooth 4.0 LE and a microSD card slot. The hybrid tablet also has a stylus for note taking and inking, along with a 5MP front facing camera, 5MP rear shooter, USB 3.0 connectivity and a DisplayPort connector.
The Core i3 models will start at $799 (64GB), with Microsoft boasting that it is "one of the fastest Core i3 devices available" for those who are looking for versatility but don't run the most demanding applications or workloads. Microsoft sees this model being sold to students who take notes and do research on the Internet, for example.
The Core i5 on the other hand, said to be (VP for Surface Computing) Panos Panay's "daily machine", handling "daily work in Outlook to the more graphics-intensive tasks of collaborating with and reviewing the work of our engineering teams". Panay even stated that the Core i5 machine outperforms many laptops he's used. Furthermore it is likely to be the machine of choice for a lot of consumers considering a Surface Pro 3 - priced from $999 with 128GB of storage.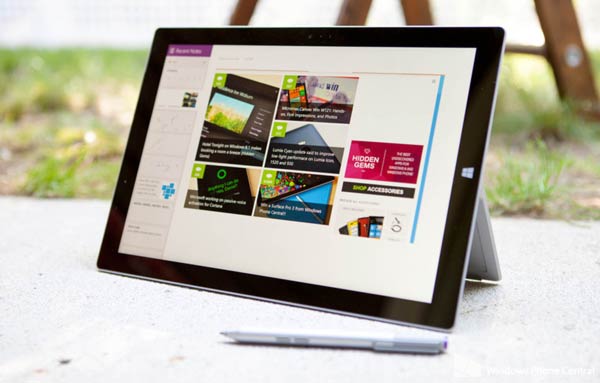 Lastly, the Core i7 Surface Pro 3 is said to be the most powerful Surface ever released. It is designed and aimed at the most demanding customer's needs. Said to "keep up with you when you're working your hardest, whether that's in the office connected to multiple monitors and peripherals or travelling", the i7 models with 256GB storage will cost you $1,549, or pay $1,949 for a 512GB version..
Although the new models are only currently available in the U.S. and Canada, 26 additional markets are scheduled to gain Surface Pro 3 i3 and i7 availability before the end of August, according to SlashGear. These include Australia, Austria, Belgium, China, Denmark, Finland, France, Germany, Hong Kong, Ireland, Italy, Japan, Korea, Luxembourg, Malaysia, the Netherlands, New Zealand, Norway, Portugal, Singapore, Spain, Sweden, Switzerland, Taiwan, Thailand and the United Kingdom.