PURE is introducing an uprated version of its big-selling PocketDAB 1000 personal DAB radio, adding FM with RDS, a rechargeable battery and text-scroll pausing of information broadcast via DAB. The PocketDAB 1500, SRP £89.99 inc VAT and finished in a new black and anodised aluminium colour scheme, should be available in store now.



This follows close on the heels of PURE's introduction of a MkII version of its distinctive-looking Bug table-top DAB radio, detailed in this HEXUS.headline. The latest newcomer, said to be PURE's lightest portable to date, at just 123g, is reckoned to be considerably cheaper than its forerunner despite the improvements.

Supplied headphones are from Sennheiser - the MX300 in-ear model - and the headphone cable also doubles as the aerial, avoiding the need for a telescopic aerial. There's an orange backlight display with two lines of 16 characters - plus clock and status icons - and the radio uses PURE's Lithium Polymer L37 ChargePAK, said to give up to 24 hours DAB listening while on the move.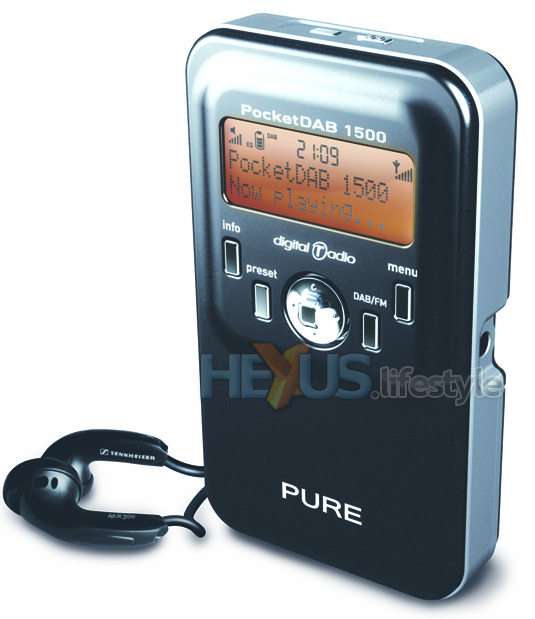 Scrolling text that DAB radio stations broadcast can include interesting and worthwhile information. Being able to pause the stream to note down details adds considerably to its usefulness. PURE calls its implementation textSCAN but what the company is not come up with all-new functionality but take advantage of a recent enhancement to DAB broadcasts that allows pausing to take place - something that it's also been doing retrospectively by making downloadable firmware upgrades available for older models.

PURE reckons that the PocketDAB 1500 has been designed for ease of use. It has a joystick for navigation and separate controls for commonly-used functions such as display settings, presets and switching between DAB and FM.

DAB-lovers will appreciate the FM side having full RDS support because this provides station name display and scrolling text that they'd otherwise miss out on. As with all DAB radios, the new PURE model auto tunes to the stations in its area and these can be selected by name. The user's 10 favourite stations are available for fast access and that's in addition to those you can call up from 20 station presets (10 DAB, 10 FM).

Comments? We'd love to hear them in the HEXUS.community.



HEXUS.links



HEXUS.community - discussion thread about this article
HEXUS.headline - Bug TOO
PURE - home page
BBC - DAB home page