Toshiba has lots of new computers and smart devices on show at Computex. As you might expect many of the updates to its PC range are based upon Haswell processors with more touchscreen options emerging. In addition to the PCs, Toshiba showed off a trio of Android tablets, two of which employ an Nvidia Tegra 4 processor.
Laptops
The Satellite P range is aimed at entertainment and performance. This range has been updated with 4th-generation Intel Core processors complemented by niceties such as up to 32GB of RAM, hard drives up to 1TB in size and optional Nvidia GeForce GT 740M graphics with 2GB frame buffer. The new designs feature aluminium construction and edge-to-edge glass on the choice of 15.6 or 17.3-inch screen (touch screen option only for the 15.6-incher). This laptop is capable of running a 4K display from its HDMI port. To complement the visuals you have Harman Kardon speakers with DTS Studio Sound. Priced from $755, ships in early June.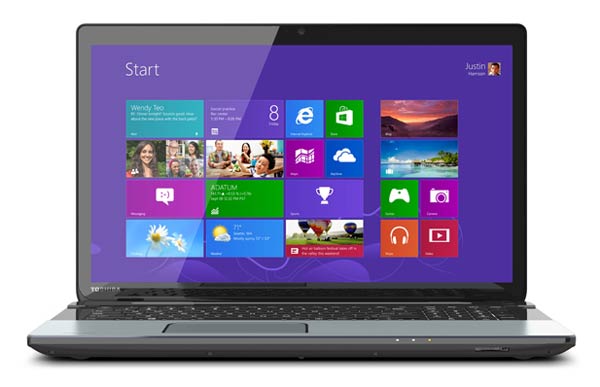 Toshiba's Satellite S range of laptops are "upscale mainstream" offerings. As such this range falls just below the P series. The range now offers 4th-gen Intel Core processors, up to 16GB of RAM and hard drives up to 1TB in size. Again a discrete graphics card, an Nvidia GeForce GT 740M with 2GB RAM, is optional. This range is available in screen sizes of 14, 15.6, or 17.3-inches, with touch screen options. Priced from $699, with Intel 4th gen systems from $799, ships in early June.
Toshiba has updated its gaming/performance laptop range with the Qosmio X75. To appeal to the gaming crowd this laptop has a "Black Widow" design theme including red backlit keys. This laptop range now has the option being equipped with a 4th-gen Intel Core i7 processor. The system can support up to 32GB of RAM and is dual-drive capable with 1.25TB of combined SSD & HDD storage available, it also has a Blu-ray drive. Gaming 3D performance is provided by an Nvidia GeForce GTX 770M with 3GB of GDDR5 memory. The system will use Nvidia's Optimus battery-saving technology and switch to the integrated graphics to save power appropriately.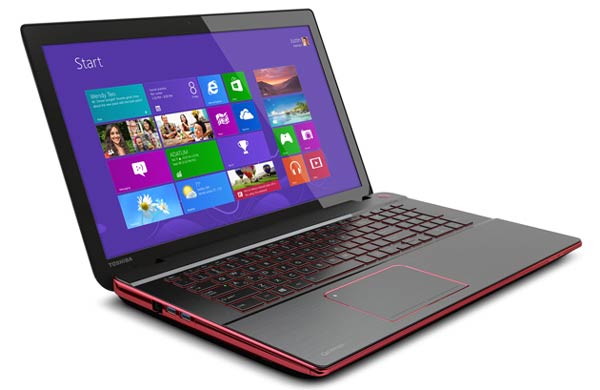 If the Qosmio's 17.3-inch screen is not enough for you, you can output via HDMI to something bigger, including 4K support. The Qosmio X75 also has impressive sound thanks to the four built-in Harman Kardon speakers. This laptop will ship with a full version of Adobe's Photoshop Elements 11 and Premiere Elements 11. Prices start from $1399, ships in mid June.
All-in-One
Toshiba also introduced the PX35t All-in-One PC. It's a 23-inch, 1080p multimedia centre. The screen also offers 10-point multi-touch. Like the updated laptops, above, this system also features Harman Kardon speakers and DTS sound. When configuring your Toshiba PX35t All-in-One PC you will have a choice of 4th gen Intel Core i3, i5, or i7 processors, up to 16GB of RAM, and up to 1TB of storage. This AiO features an HDMI-in so you can use the screen with a games console or Digi TV Box for example. The starting price for this system is $1,030, ships in mid June.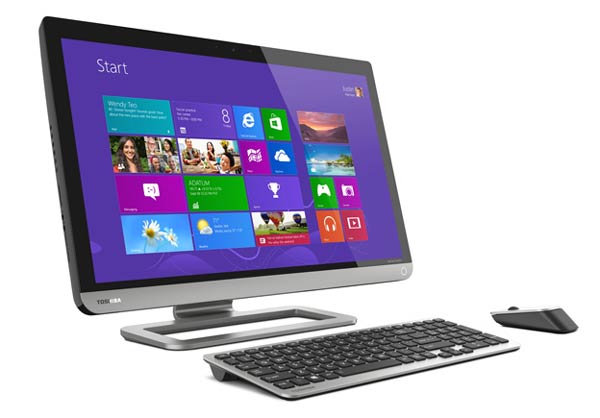 Tablets
Toshiba also unveiled a trio of tablets. The first offering is called the Excite Pro and has a 10.1-inch 2560 x 1600 pixel IPS display and is powered by an Nvidia Tegra 4 SoC with 2GB of RAM. The Excite Pro has an 8MP camera with panorama and HDR modes. This $500 tab runs Android 4.2.2.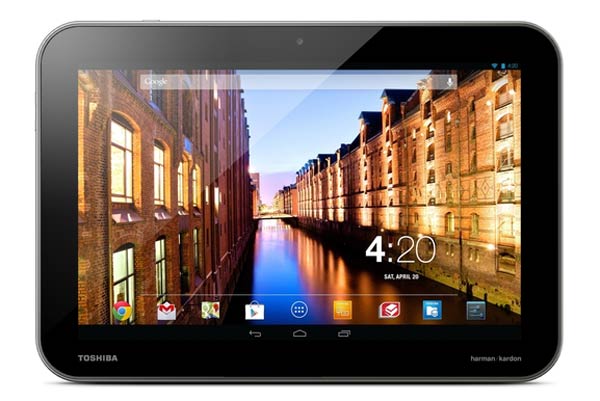 The Excite Write is equipped with a stylus offering 1024 levels of pressure sensitivity. It is identical to the Excite Pro, above, but with the added digitizing hardware will cost you $100 more.
Much cheaper, at $300, sits the Excite Pure. This is also a 10.1-incher but features the Nvidia Tegra 3 SoC and 1GB of RAM. Its 16GB internal storage can be expanded thanks to a microSD card slot. All three tabs are expected in the last week of June.