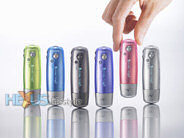 Sony's latest Walkman is a multi-format, USB stick player due to arrive at the end of April in three capacities (512MB, 1GB, 2GB) and claimed to offer three hours' battery life from a three-minute quick charge

.

The E-series player is offered in six colours (pink, blue, silver, violet, black, and lime green) and in versions with FM radio - but only on 512MB and 1GB models.

As well as playing MP3s, the unit handles non-copy-protected WMAs and files in Sony's own ATRAC format. The Lithium-ion battery's claimed playback time is impressive - around 28 hours for ATRAC and 27 hours for MP3. Players come with the latest version of SonicStage - V3.4 - said to provide easy music management and transfer of tracks.

Although Sony hasn't revealed pricing, a selection of 1GB and 2GB models are available for pre-ordering on its own on-line store. VAT-inclusive prices there range from £119 for a 1GB pink model with tuner (NWE003FPC.CEW) to £79 for pink, black or violet 1GB models without. A 2GB model in lime green (NWE005G.CEW) - radio's not an option here, remember - sits in the middle at £99.01.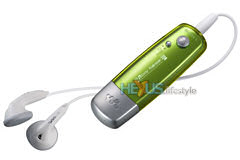 The players are around 79mm in length and weigh about 25g. They're said to have direct USB connectivity with fast transfer speeds and to feature a bright and clear one-line dot matrix organic LED display.

Sony says that storage capacity, using ATRAC at a datarate of 48kbps, is up to 90 CDs for the 2GB model, 45 CDs for 1GB and 22 CDs for the 512MB.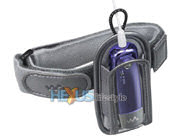 Each player comes with a set of headphones but Sony will at launch time be offering a selection of optional extras - a neck strap headphone set, a protective case and an armband case for joggers (and posers).

Thoughts? Let us know over in the HEXUS.community.