HP has emailed HEXUS about a range of new gaming products which will fill the ranks of its Omen and Pavilion lines. Unveiled at the HP Gaming Festival in Beijing today were several new gaming laptops, a number of gaming peripherals, and even a new gaming chair. Nicely, all the newly announced gaming products will be arriving in the UK through July and August and I have shared pricing and release dates at the foot of this article.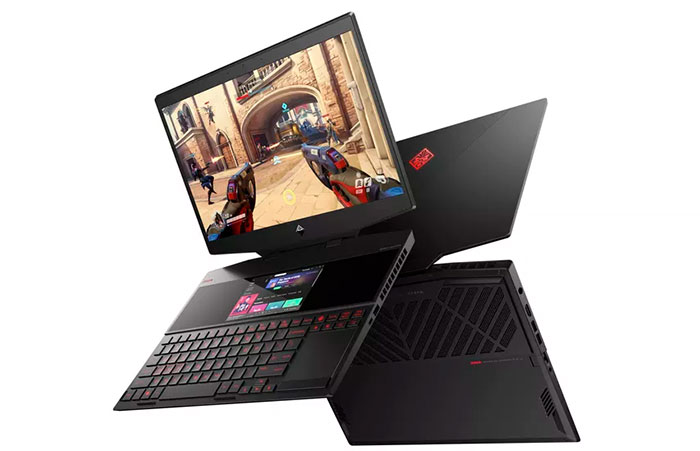 Put your phone down
The highlight of the HP unveilings in China was definitely the HP Omen X 2S, which is claimed to be the "world's first dual-screen gaming laptop". Its central proposition is that a second screen embedded above the keyboard deck "shakes the foundation of what's expected of a gaming laptop, with tremendous multi-tasking capabilities for various activities and support with dedicated hotkeys".
We are told that 82 per cent of PC gamers use their mobile phones for messaging during gaming sessions, 61 per cent listen to music, and 49 per cent watch game related live streams, video content and browse website. The second screen in the HP Omen X 2S is meant to rationalise all this activity and bring the focus back to your gaming PC. The six-inch touchscreen situated above the keyboard desk lets players "message friends in WeChat and WhatsApp, browse in Spotify, watch Twitch and YouTube, or even serve as a hub for Omen Command Centre software," without interrupting the on-screen action.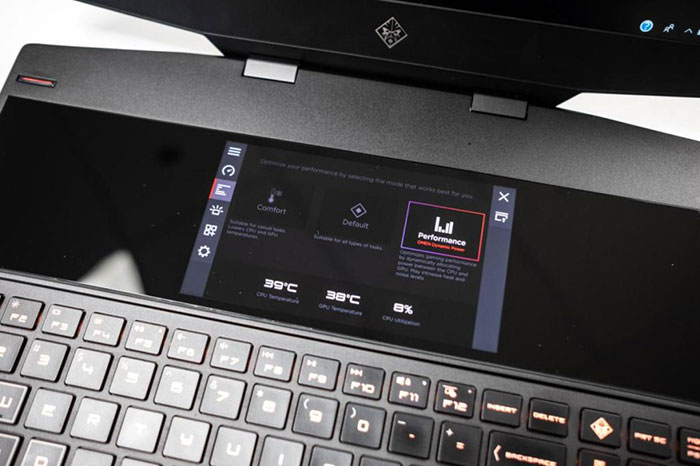 Real-time cut and magnify mirroring
In addition to the functionality outlined above, HP has integrated a real-time screen mirroring feature that can cut and magnify parts of the main screen – including copying the map portion of a racing game – to the second screen.
Moving on to the more usual laptop specifications, the main screen in the HP Omen X 2S is 15.6-inches in diagonal and can be configured at purchase as a 1080p display with 144Hz or 240Hz max refresh, or you can swap it out for a 4K HDR 400 60Hz panel. Inside you can choose from Intel 9th Gen Core processors up to an octa-core Core i9, and up to Nvidia GeForce RTX 2080 Max-Q graphics.
Liquid metal cooling
The new HP Omen X 2S is just 20mm thick and to help it cope with the thermal load HP has decided to apply liquid metal compound to the thermal system. Specifically it is using Thermal Grizzly Conductonaut. In its own test, HP says that the liquid metal compound provided up to a 28 per cent frames-per-second (FPS) performance boost over traditional grease when testing in Apex Legends, and an 8.5 per cent faster lead time in a Blender Benchmark test. These tests took place on a system with Intel i7-9750H, 16GB DDR4-2666, and RTX2070 Max-Q.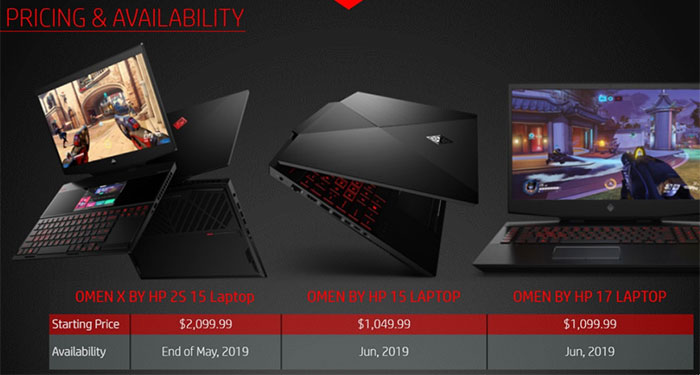 Other HP Omen and Pavilion gaming products
HP updated its Omen 15 and Omen 17 laptops with the 9th Intel H-series CPUs and up to Nvidia GeForce RTX 2080 Max-Q and RTX 2080 respectively. These will also come with fast screen options up to 240Hz. Whichever new Omen you choose (including the HP Omen X 2S) HP has implemented a new cooling system dubbed Omen Tempest. It uses a 12V fan and thre sided venting. All the new Omen gaming laptops feature new Intel Wi-Fi 6 (802.11ax) designed to support gigabit speeds.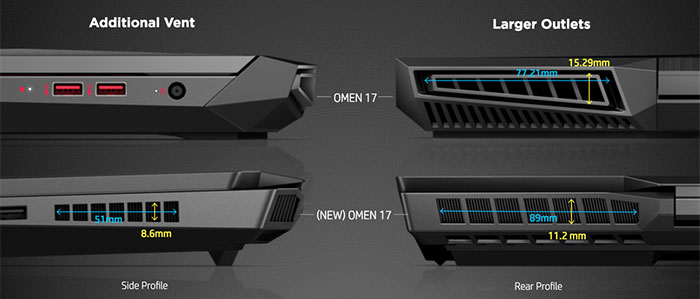 Two new HP Omen monitors were unveiled in Beijing. The Omen X 25 and Omen X 25f displays feature micro-edge bezels, one millisecond response times, and Nvidia G-SYNC and AMD Radeon FreeSync technologies to sync industry-leading 240Hz refresh rates.
Fleshing out the HP Omen product offerings was a new Omen Photon Wireless Mouse with 11 buttons, the Omen Outpost RGB Mousepad with wireless charging for mice and phones, and the Omen Citadel Gaming Chair.
The HP Pavilion gaming range was enhanced with the Pavilion Gaming 15 laptop boasting an eight per cent decrease in height over the previous model, and is joined by the introduction of the new HP Pavilion Gaming 17 laptop. These Pavilions arrive with options up to the latest 9th Gen Intel Core i5/i7 high performance mobile CPUs, and up to the recently announced Nvidia GeForce GTX 1660 Ti with Max-Q design. Lastly you have even more input options with the HP Pavilion Gaming Mouse 200 and Pavilion Gaming Mousepad 400.
Omen and Pavilion by HP Pricing and Availability
Omen X 2S Laptop is expected to be available in the UK in July starting at £2499.99
i7-9750H/16GB RAM/512GB SSD/RTX 2070 £2499.99
i9-9880H/32GB RAM/1TB SSD/RTX 2080 £3499.99
Omen 17 Laptop is expected to be available in the UK in July starting at £1349.99
Omen 15 Laptop is expected to be available in the UK in July starting at £1399.99
Omen X 25 Display is expected to be available in the UK in July starting at £549.99
Omen X 25f Display is expected to be available in the UK in July starting at £379.99
Omen Photon Wireless Mouse is expected to be available in the UK in July starting at £129.99
Omen Outpost Mousepad is expected to be available in the UK in July starting at £199.99
Omen Citadel Gaming Chair is expected to be available in the UK in August starting at £304.99
HP Pavilion Gaming 17 Laptop is expected to be available in the UK in July starting at £899.99
HP Pavilion Gaming 15 Laptop is expected to be available in the UK in July starting at £799.99
HP Pavilion Gaming Mouse 200 is expected to be available in EMEA in July starting at £29.99
HP Pavilion Gaming Mousepad 400 is expected to be available in EMEA in July starting at £39.99