Research scientists at the Cockrell School of Engineering at The University of Texas have developed a first-of-its-kind self healing gel that can repair and connect electronic circuits. Its particular special property is that this material will self-repair without any external stimulus, no one needs to apply heat or light to broken bonds, for example. It is foreseen that the new material could be used to facilitate flexible and bendable electronics required by wearables, biosensors and even batteries.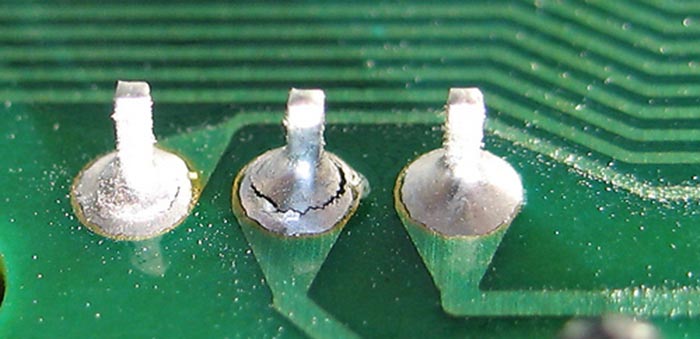 An obvious failing circuit 'dry joint'
UT Austin's 'supergel' material has high conductivity plus strong mechanical and electrical self-healing properties. It is created by combining two other gels; a self-assembling metal-ligand supramolecular gel that provides self-healing properties and a polymer hydrogel that is a conductor. The nanostructures in the gel are the smallest capable of efficient charge and energy transport and helped formulate a substance offering about 10 times the conductivity of other polymer hydrogels used in bioelectronics and conventional rechargeable batteries.
Highlighting the unique self healing properties of the supergel, mechanical engineering assistant professor Guihua Yu, who developed the gel, said "In the last decade, the self-healing concept has been popularized by people working on different applications, but this is the first time it has been done without external stimuli." Yu added that "There's no need for heat or light to fix the crack or break in a circuit or battery, which is often required by previously developed self-healing materials."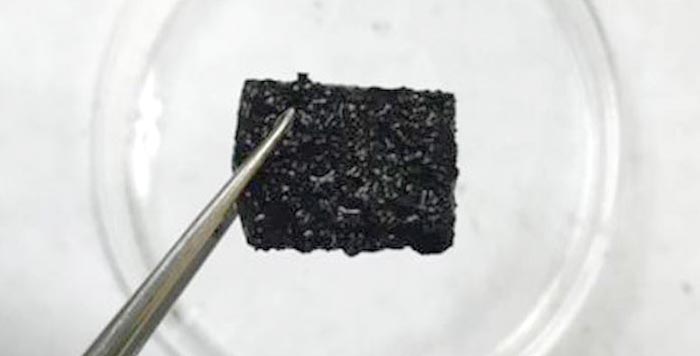 Self-repaired supergel supports its own weight after being sliced in half.
In practice the UT Austin supergel would be used as a soft joint, joining other parts of the circuit. "That's often where you see the breakage," explained Yu. The gel could also be applied over traditional joints to repair them, as necessary. Applications in the fields of medical applications and energy storage are foreseen by the researchers, who are partly funded by industrial giant 3M and the US National Science Foundation (NSF), among others.