An international team assembled from US, Germany and Japan-based physicists has created a transistor made up of a single molecule and a dozen atoms. The new transistor offers much greater precision and reproducibility compared to previous atomic-scale transistors - factors which are obviously important to such a technology going forward.
The research team used a highly stable scanning tunneling microscope (STM) to create a transistor consisting of a single organic molecule and positively charged metal atoms. The phthalocyanine molecule is pictured below, surrounded by twelve indium atoms on an indium arsenide surface.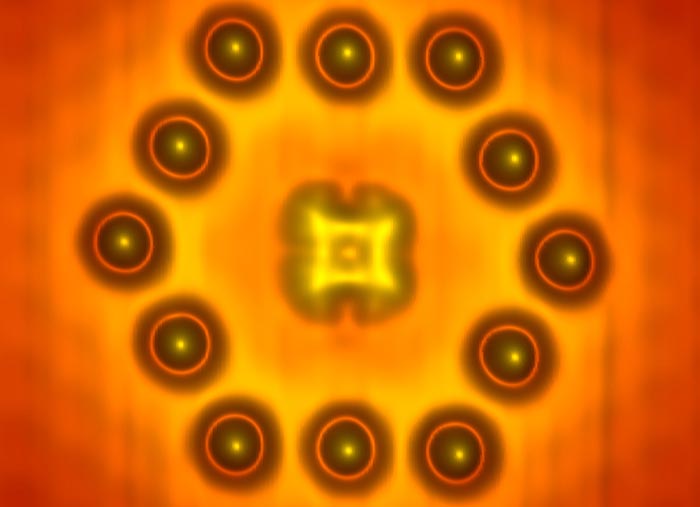 Electrical gates are assembled from the +1 charged atoms and, with a bias voltage applied, single electrons can hop over and change the charge state of the molecule. As mentioned in the intro, the newly discovered method of fabricating atomic-scale transistors is the first to allow precise control of its on/off state. These bottom-up constructed transistors are said to be reproducible and reliable, despite their tiny size.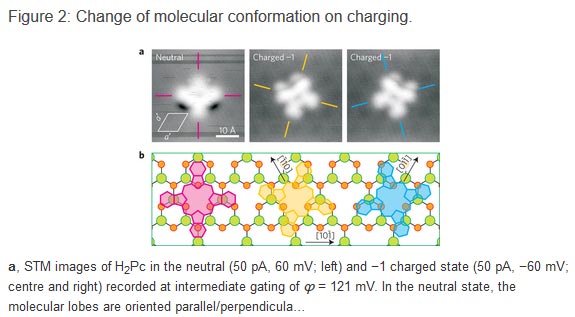 The researchers observed that with these new phthalocyanine and indium transistors, "the molecule adopts different rotational orientations, depending on its charge state". Furthermore the coupling between charge and orientation has a 'dramatic effect' on the electron flow across the molecule.
The above research and discoveries could be important in the advancement of miniaturised electronics into the single figure nanometre realms. Further research and exploration is needed to see if these atomic-scale transistors can integrate with existing semiconductor technologies.