Pioneer
It's been an attritional month for tech pioneers. Steve Jobs died just over a week ago, now Dennis Ritchie - far less prominent but arguably no less influential - has died, aged 70.
Ritchie created the C programming language 40 years ago as an employee of Bell Labs - at which he stayed for the rest of his career - and it remains one of the most prominent to this day. Furthermore he was part of the team that created the UNIX operating system around the same time, which led to many of the OSs we use today, including Mac OSX, Linux and Solaris.
Here's a chart from Wikipedia showing the evolution of Unix. The portrait was also acquired from Wikipedia.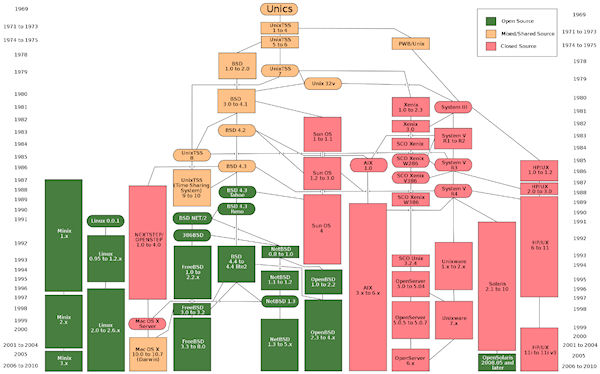 Bell Labs is now owned by Alcatel Lucent, and the current Bell Labs president - Jeong Kim - blogged to acknowledge Ritchie's passing. "It is with great sadness that I inform you that Dennis Ritchie has passed away at the age of 70," he said.
"This summer we were fortunate to celebrate with him as he accepted the 2011 Japan Prize for co-inventing the UNIX operating system and the C programming language at a ceremony in Murray Hill, NJ, which was viewed by Bell Labs colleagues around the world.
"As one of the most respected researchers from Bell Labs, Dennis has a long list of accomplishments In addition to his work on UNIX and the C language, Dennis also contributed to the Plan 9 operating system, generally released in 1995, and also to the Inferno operating system, which was announced in April 1996. His last contribution to the UNIX system was a Stream input-output mechanism for connecting networks, terminals, and processes in a unified way.
"On behalf of Bell Labs, I would like to express my deepest sympathies to the Ritchie family, and to all who have been touched in some way by Dennis."