ARM has news of a double launch today, both are processors aimed at providing enhanced visuals. The Mali-G51 is a GPU aimed at "enabling premium features and VR on mainstream devices." A second product, the Mali-V61 VPU, aims to "address real-time video applications for Generation Z".
ARM Mali-G51
Bringing premium performance to mainstream mobile is a worthy goal and that is what ARM says that its newest GPU, the Mali-G51, is designed to do. To keep costs to a minimum and increase the chance that smart device makers will adopt this new GPU, ARM has designed it with minimum silicon area in mind.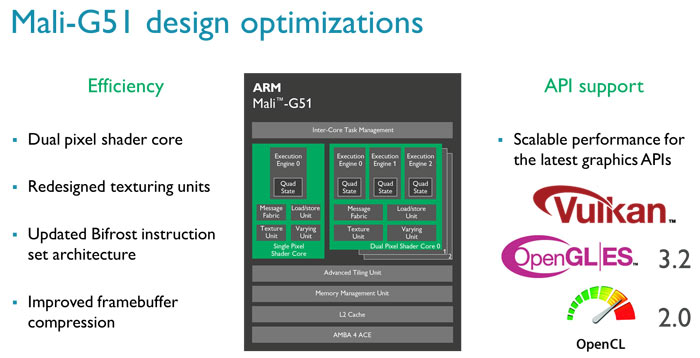 It is ARM's second GPU to be built with its scalable Bifrost architecture (the Mali-G71 premium solution was the first), and it exploits ARM's latest advances in bandwidth and power efficiency. Key features of the Mali-G51 are:
Efficiency - 60 per cent more performance per square mm and is up to 60 per cent more energy-efficient than its predecessor, the Mali-T830 GPU.
Size: 30 per cent smaller, reducing the cost of manufacturing high-volume chips.
Performance: Can enable mainstream low power AR and VR solutions, can display at resolutions up to 4K.
Support: Vulkan, OpenGL ES, OpenCL, ARM Frame Buffer Compression (AFBC) 1.2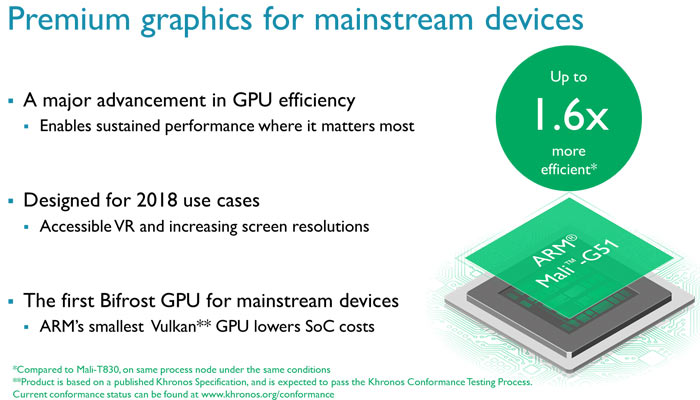 ARM Mali-V61
ARM reckons that 'Generation Z' is itching for enhanced real-time video performance and has thus designed the Mali-V61 VPU. This Visual Processing Unit delivers "the most efficient 4K live streaming for real-time video applications," with impressive bit-rate savings. With latest gen codecs the Mali-V61 can provide a 50 per cent data transmission saving when viewing high definition content.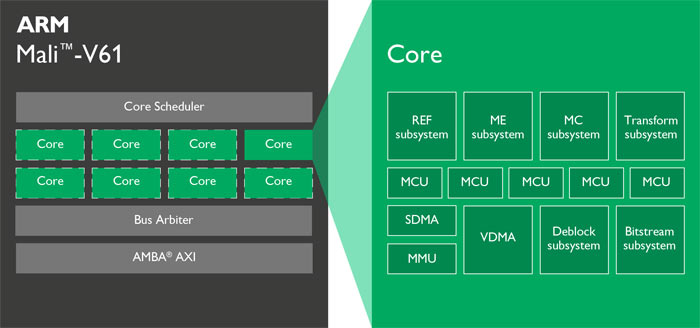 This processor can scale from 1080p60 on a single core, up to 4K120 on multiple cores. Furthermore, it includes a high quality VP9 encode which is set to become a standard requirement in Android and Google apps. HEVC is also supported within the VPU's single scalable IP block.

Both the Mali-G51 and Mali-V61 are available to licence immediately.