AMD has officially launched its Radeon Pro 400 series graphics in the wake of the Apple MacBook Pro refresh announcement last night. The new graphics chips "deliver extraordinary performance and efficiency gains over the prior generation," promises AMD, and are purposed to appeal to 'makers' such as artists, designers, photographers, filmmakers, and engineers.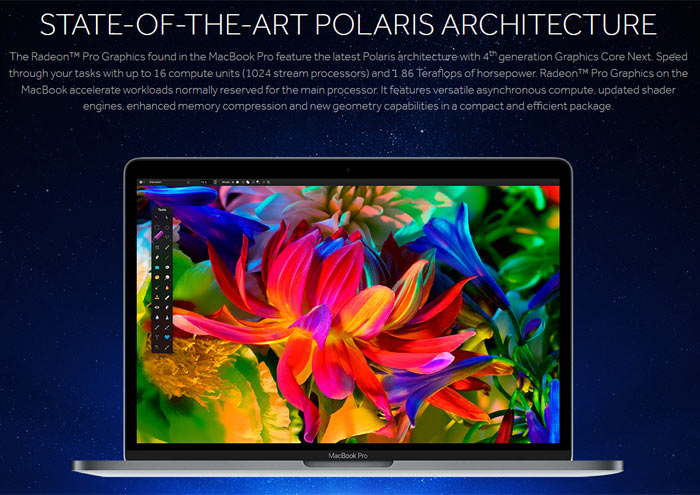 The Radeon Pro 400 series graphics are AMD Polaris based, 4th generation GCN chips built on the 14nm FinFET process. In the mobile offerings in the new MacBook Pros this has enabled "the thinnest graphics processor possible," alongside a process called 'die thinning'. AMD has reduced the silicon wafer by more than half, approximately as thick as four sheets of paper. All the new graphics processors name-checked last night, the Radeon Pro 450, 455, and 460, have a thermal envelope of <35W.
Raja Koduri, SVP and chief architect, Radeon Technologies Group, said that he "couldn't be more proud" for the new line of GPUs to launch in Apple's innovative new Touch Bar equipped laptops. New MacBook Pro owners would be creatively empowered by the new GPUs, he thought. To celebrate its new support for 'creators' AMD has simultaneously launched a Creators with Radeon Pro graphics website you can peruse through. It is there, thankfully, that AMD has provided a smattering of hardware specs for us, and I have tabulated what is provided below.
| | | | |
| --- | --- | --- | --- |
| GPU | Peak Performance | Stream Processors (CUs) | Memory Bandwidth |
| Radeon Pro 450 | 1 TFLOPS | 640 (10) | 80GB/s |
| Radeon Pro 455 | 1.3 TFLOPS | 768 (12) | 80GB/s |
| Radeon Pro 460 | 1.86 TFLOPS | 1024 (16) | 80GB/s |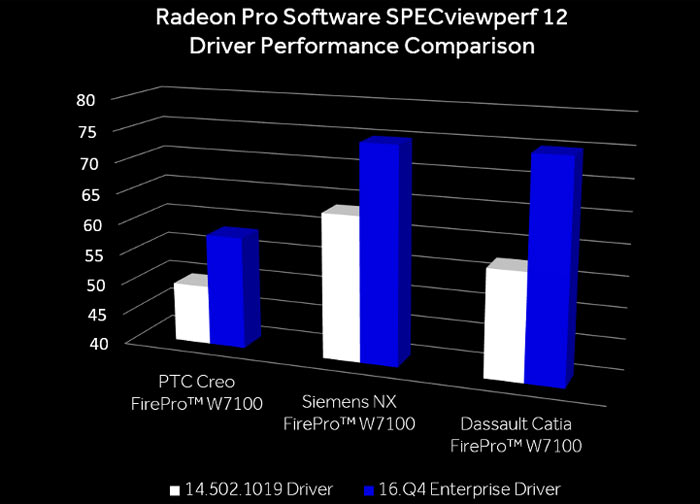 As well as the hardware outlined above AMD released the Radeon Pro Software enterprise driver 16.Q4, which is downloadable immediately. AMD has committed to update this driver on the 4th Thursday of each quarter of the year with feature, performance and stability improvements. "Radeon Pro Software is certified in over 100 workstation applications covering the leading software professionals use, including Autodesk AutoCAD, Dassault CATIA, Siemens NX, Adobe Premiere, Avid Media Composer, Autodesk Maya, and many more," says AMD.
Overall AMD appears to be pretty pleased with its MacBook Pro design win. It will be interesting to see if Nvidia does indeed get the contract for any iMac and Mac Pro update models waiting in the wings.