Just ahead of the weekend some websites received confirmation from AMD, concerning an impending price drop. The Tech Report received one such communication in which AMD talked up the capabilities of the Radeon RX 460 and RX 470 graphics cards, and compared them directly with Nvidia's soon-to-be-released GTX 1050 Ti, among other similar priced cards. Another site, TechPowerUp, published some official comparison slides from an accompanying AMD press deck.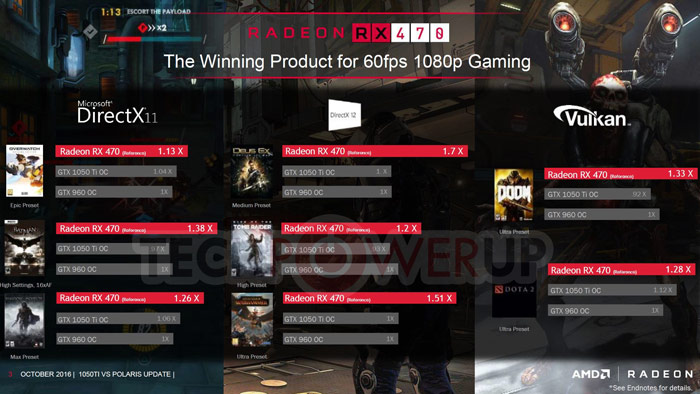 The press deck slides are interesting to look through, and they came from a file named '1050Ti vs Polaris Update'. A key slide, reproduced above, shows that in a raft of current popular games titles the RX 470 easily beats an upcoming GTX 1050 Ti OC by between 1.13x and 1.7x in various 1080p gaming tests.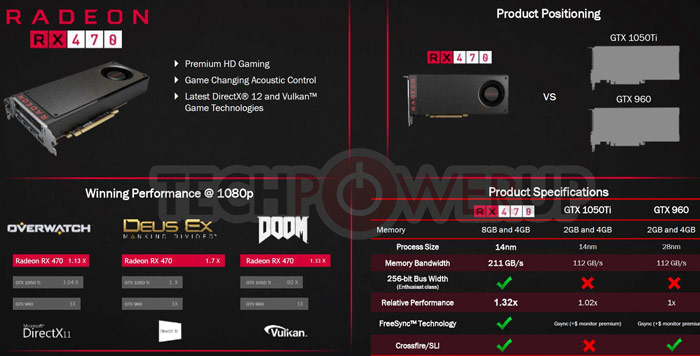 AMD says that it is positioning the RX 470 directly against the GTX 1050 Ti and previous gen GTX 960 cards. It doesn't just beat the opponent cards on speeds, the Polaris card also surpasses the competition on technology; supporting dual-GPU, Asynchronous Compute, improved memory bandwidth, Adaptive Sync (FreeSync), and HDR visuals.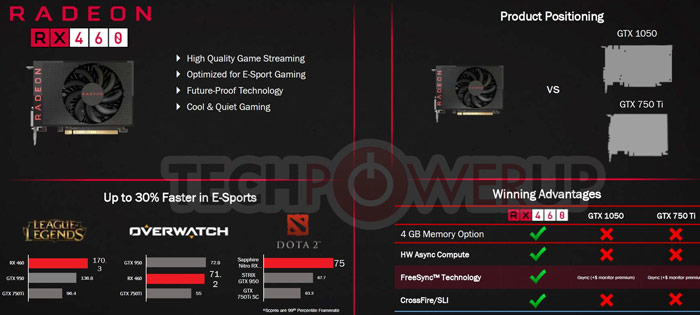 At the time of writing Nvidia GeForce GTX 1050 and 1050Ti reviews are yet to go live but HEXUS has an Asus Radeon RX 470 Strix Gaming OC 4GB review, and Sapphire Radeon RX 460 Nitro 4GB review from August for you to pick through.
Unfortunately for those of us across the pond, all the pricing and talk of pre-emptive price cuts is in dollars right now. With that in mind let's have a look at the competitive landscape in MSRP dollar price terms with the $10 cuts in place…
| | | | |
| --- | --- | --- | --- |
| AMD RX460 | AMD RX470 | Nvidia GTX 1050 | Nvidia GTX 1050 Ti |
| $99 | $169 | $110 | $140 |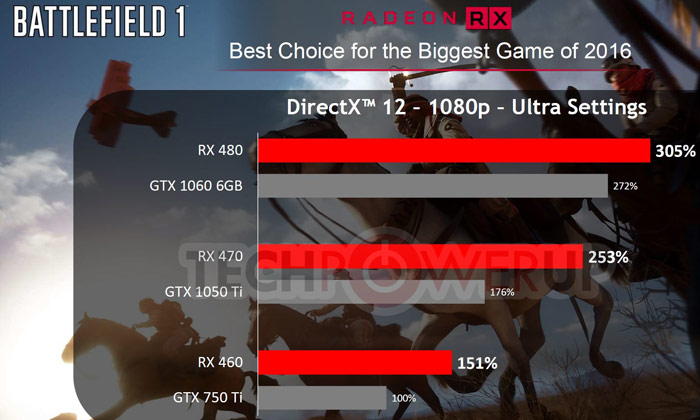 Of course, competition definitely exists outside of the US, so we should see similar moves in Europe/worldwide. Readers will have a much better grasp of how the Nvidia GeForce 1050Ti performs soon. The Nvidia GeForce GTX 1050 Ti rolls out to retailers from tomorrow, and the GTX 1050 rolls out from 8th November.