A new Kickstarter project aimed specifically at Apple MacBook users who would appreciate beefed-up 3D graphics acceleration has been launched. The Wolfe is an external, Thunderbolt attached, metal box that hosts an Nvidia GeForce GTX 950 (or GTX 970 in the Wolfe Pro) to facilitate "high-performance gaming, virtual reality, graphic design, and video-editing for laptops". We are just two days into the Kickstarter project but it is already a resounding success having raised over $200,000 with 28 days to go. The original funding target for the month-long Kickstarter campaign was just $50,000.
The Wolfe makers reckon that many MacBook users suffer from slow performance when they want to indulge in "tasks like gaming, VR, and high-speed rendering," due to the range's "weak mobile graphics processor". Thus it has sought to bring an affordable 3D solution to the laptop you already own, offering up to 10X the 3D graphical rendering power of your standard MacBook - depending upon the original computer hardware and the testing application.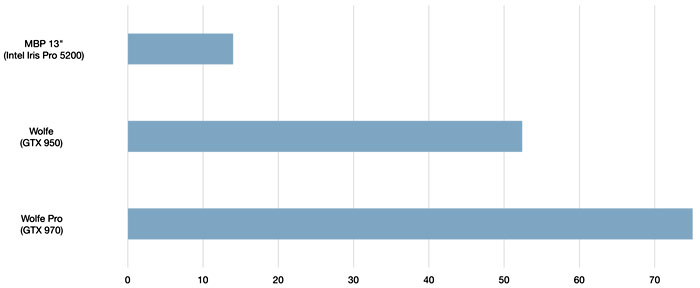 Heaven benchmark results
Getting down to the specs of the Wolfe products; the Wolfe is equipped with an Nvidia GeForce GTX 950, and the Wolfe Pro is equipped with an Nvidia GeForce GTX 970. The Pro model will "likely" be made available with a GTX 1060 post-campaign. These external GPUs are compatible with Thunderbolt 1, 2 and 3 connections but post-Kickstarter Wolfe will only be selling Thunderbolt 3 versions of the box. The wide compatibility of the Kickstarter product means a lot of MacBooks (and other Macs) are supported:
MacBook Air 11-inch, Mid 2011–2015
MacBook Air 13-inch, Mid 2011–2015
MacBook Pro Retina, 13-inch, Late 2012–2015
MacBook Pro Retina, 15-inch, Mid 2012–2015
MacBook Pro 13-inch, Early 2011–2015
MacBook Pro 15-inch, Early 2011–2015
Mac mini, Mid 2011–2015
iMac, Mid 2011–2015
Mac Pro, Late 2013-2015
It is noted that, thanks to the eGFX standard, any Thunderbolt-enabled Windows PC can also use the Wolfe/Wolfe Pro as an external graphics card.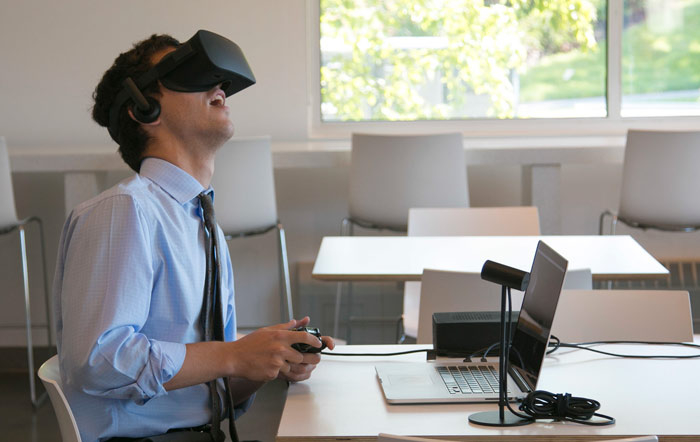 Wolfe provides its one-click Wolfepack software for MacOS and Windows. After install you can just plug in the Wolfe/Pro and go. You don't have to stop with a single external Wolfe box, you can add as many as your computer has Thunderbolt ports. However, it is warned that multi-GPU gaming support is patchy.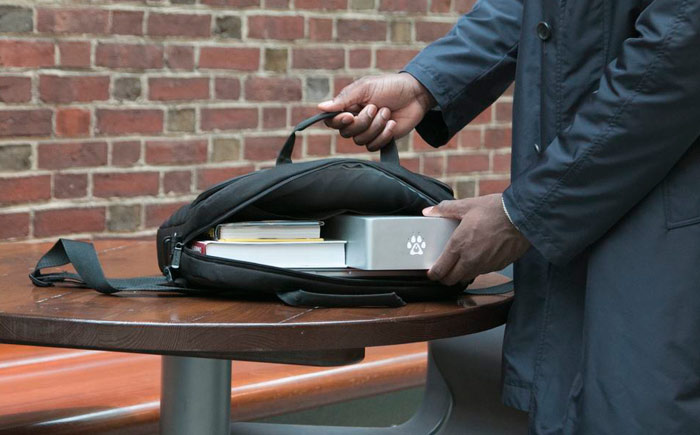 The minimum level of backing required to reserve a Wolfe DIY was $269 – but they seem to be 'all gone' for now. A standard Wolfe can still be had for $449, and a Wolfe Pro starts at $599. The prices include worldwide delivery and you should expect your Wolfe to be delivered in Feb 2017, or March 2017 for the Wolfe Pro.