As we wait patiently for the official launch/availability of the AMD Radeon RX 470 and RX 460 graphics cards more and more information seems to be leaking out, as per usual. Back in early July we saw the first basic specs of the RX 470 and RX 460, presented by AMD execs at an event in Australia. Then a few days ago photos of Sapphire branded Radeon RX 460 and RX 470 cards surfaced on the net. Now, thanks to VideoCardz we have what appear to be launch deck slides for the Radeon RX 470 and RX 460…
AMD Radeon RX 470
The Radeon RX 470 will become available on 4th August, says the source. As previously touted, this card is based upon the same Polaris 10 GPU as the RX 480 with a few cuts here and there. Four CUs have been disabled resulting in 2048 Stream Processors. Furthermore the GPU and GDDR5 memory clocks have been reduced. Its maximum compute performance is thus reduced to 4.9 TFLOPs compared to the 5.8 TFLOPs offered by the RX 480. Nevertheless the RX 470 delivers what is claimed to be a "Brilliant HD Gaming" experience.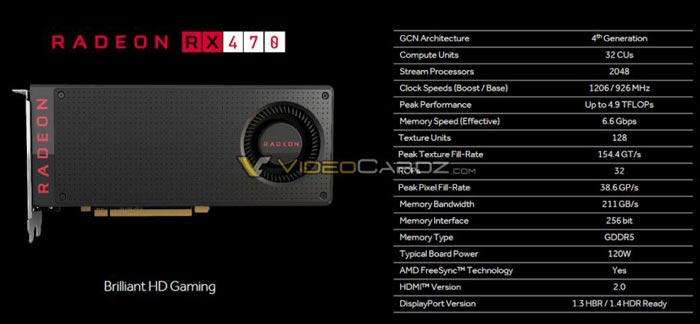 New in this slide deck are the detailed spec breakdown slide, above, and it's nice to see some performance comparisons, as below. In various HD gaming tests at 'ultra settings' the RX 470 proved to be between 1.5x and 2.4x faster than the Radeon R9 270. However, that graph looks rather odd with both DOOM and Warhammer reporting a 2.4x performance increase but obviously different bar lengths.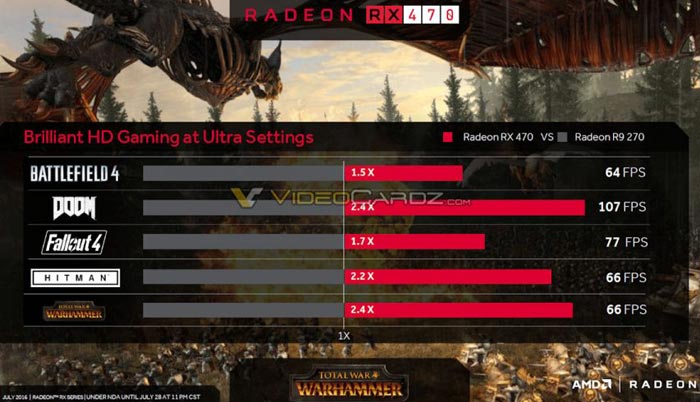 AMD Radeon RX 460
The Radeon RX 460 will become available on 8th August, says the source. This card uses the energy sipping Polaris 11 GPU and can therefore be fitted without any power connector requirement. It sports 14 CUs, offering 896 Stream Processors. Its maximum compute performance is 2.2 TFLOPs.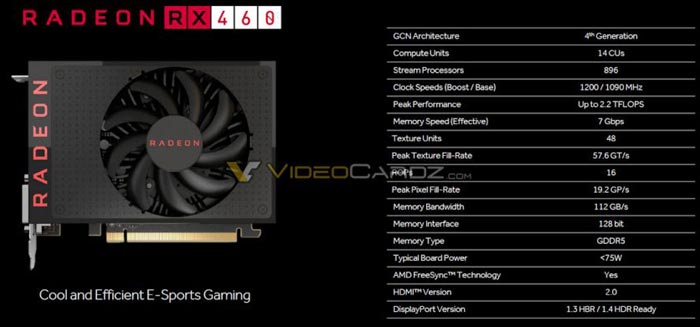 This 'console class' HD gaming card is compared against the Radeon R7 260X by AMD. In a range of eSports gaming tests the RX 460 beats the rival card by a pretty consistent 1.2x to 1.3x. HD gaming scores look to never dip below a smooth 74fps.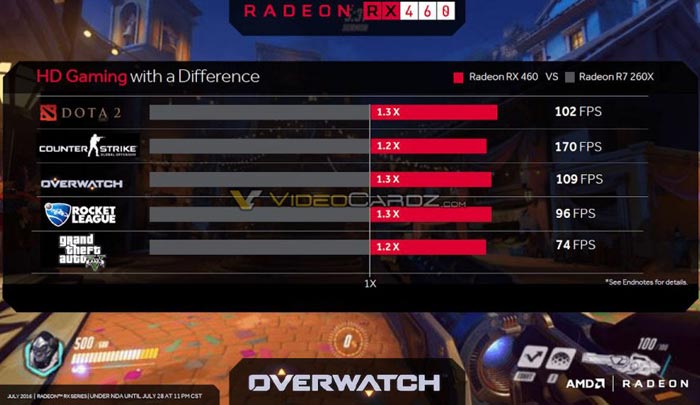 Please take any leaked slides with a pinch of salt. However, if they are correct, you can see at the bottom left of the perf slides that the full official slide deck will become public after 11pm CST tonight (5am in UK tomorrow).