AMD has discussed the Radeon RX 480, 470 & 460 at a special event in Australia. During the presentation (part 1, and part 2, via VideoCardz) details about the Radeon RX series of graphics cards were fleshed out a bit more than in previous communications. Thus we got to learn some additional tech specs about the upcoming high-volume targeted AMD Radeon RX 470 and RX 460 cards.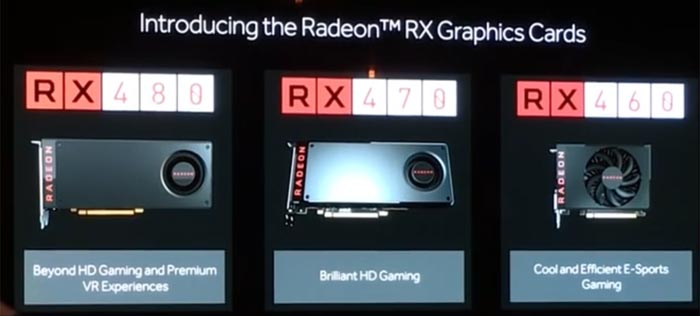 The AMD Radeon RX 470 looks much like the AMD reference RX 480, as it uses a very similar looking blower cooler. The reference design sports 4GB of GDDR5 memory while AIC partners can add up to 8GB. Like its big brother the memory is connected to a 256-bit bus, however the RX470's memory runs at an effective 7GHz, 1GHz slower.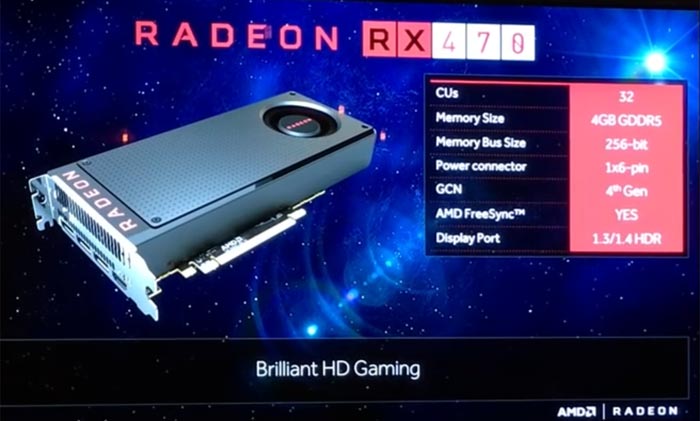 The Polaris 10 GPU in the RX 470 is similarly trimmed for speed, down from a reference 1266MHz in the RX 480, to 1206MHz. AMD confirmed that the RX 470 has 32 Compute Units, resulting in 2048 Stream Processors, down from 2304 in the RX 480. Sources speaking to VideoCardz point to an RX 470 launch at the end of July with availability in early August. It will be priced around $150.
The AMD Radeon RX 460 uses the Polaris 11 GPU and targets eSports gamers who are after a cool and efficient graphics card. The reference design doesn't have any power connector and looks very short. As it uses GCN 4.0 architecture it offers 2.8x perf/watt performance over previous gen cards in the same segment, such as the Radeon R7 360. Furthermore the Display Port 1.3 / 1.4 HDR and encode/decode functionality improves its worth playing games and for content consumption.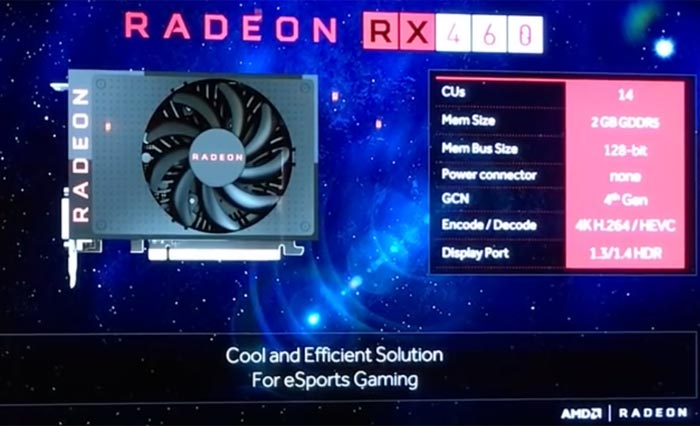 AMD's 14nm Polaris 11 GPU in the RX 460 has 14 CUs, 896 Stream Processors. The reference design is equipped with 2GB of GDDR5 RAM, connected via a 128-bit bus. Clock frequency wasn't revealed by AMD but it is expected this card will provide about 2 TFLOPS of performance. This card is likely to launch alongside the RX 470 and take a square aim at the $99 market.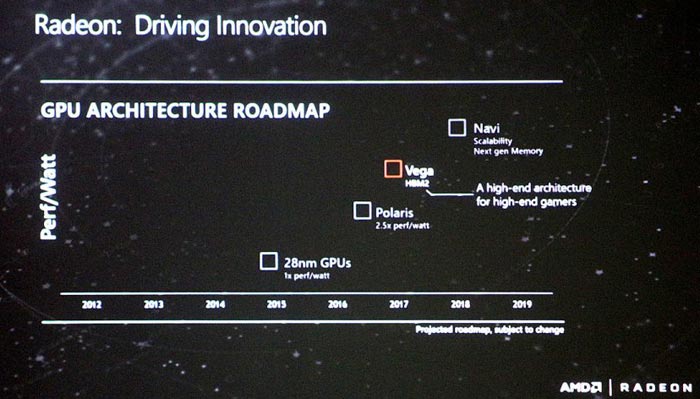 Last but not least, AMD's Australia presentation showed us a slightly amended GPU roadmap. As you can see in the image above, nothing has materially changed in this roadmap – it has just been amended with an explanatory note about the next big launch for AMD/RTG, the Vega GPU, equipped with HBM2 memory. The note says that Vega will provide a "high end architecture for high-end gamers".