There were reports over the weekend of AMD Radeon RX 480 4GB graphics cards coming equipped with 8GB of GDDR5 RAM installed. However the BIOS used by these '4GB' cards only allowed access to half of the physically installed RAM. To get access to the full amount of RAM some enterprising 4GB graphics card users claim to have successfully flashed a retail RX 480 8GB card BIOS.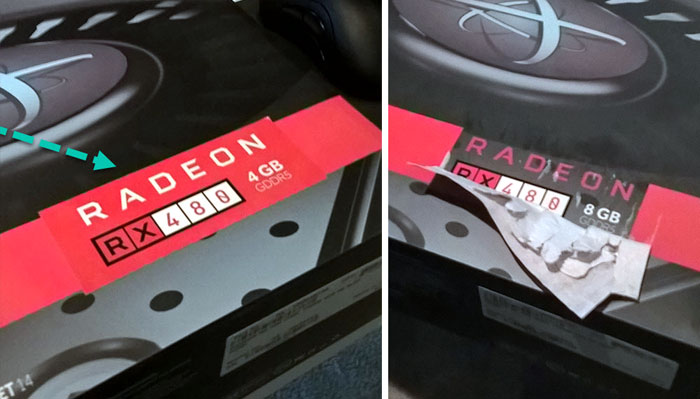 In a Reddit AMA, AMD claimed that graphics cards sent to reviewers were fashioned this way so that reviewers could test both 4GB and 8GB versions of the RX 480, switching between the two via a BIOS flash. It asserted this ability was "restricted to review samples," says TechPowerUp (TPU). However the 'reviewer only' statement appears to be inaccurate as TPU tested one of its retail bought 4GB RX 480 cards and concluded "retail 4GB RX 480 can be flashed to 8GB, and the modified card performs on par with the 8GB variant". Remember that another difference with the AMD Radeon RX 480 4GB is its slightly slower memory clocks – also 'fixed' with the BIOS switch.
To benefit from this 'something for nothing' upgrade, first of all an AMD Radeon RX 480 4GB user must confirm that their card has 8GB of RAM chips physically installed. That will be evidenced as 8x Samsung 8Gb chips on the PCB. Once you know you have the RAM capacity there, you can use ATIFlash 2.74 to flash an 8GB graphics card BIOS. In theory you should end up with a card that is identical to a retail 8GB one including the faster default memory clocks. Please be warned though:
Disassembly of your card to check what memory chips are installed will probably void your warranty
Flashing the 'incorrect' BIOS will probably void your warranty
Companies recommend that you never do any BIOS updates unless your hardware has a specific problem solved by the update.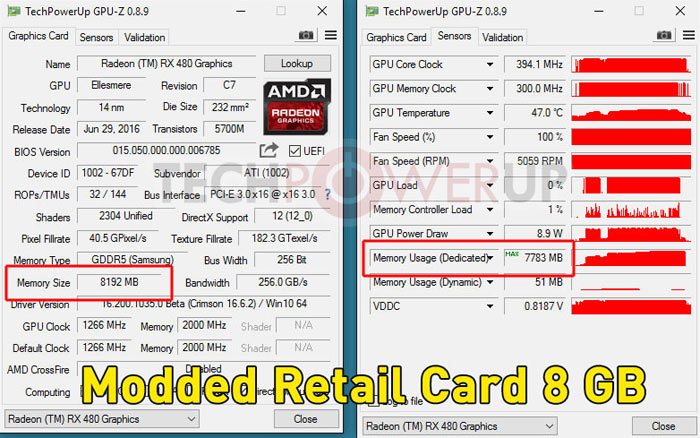 TPU tested its 'upgraded' RX 480 4GB and found it to perform slightly better than it did previously, on a par with a retail RX 480 8GB. To check that address space above and beyond 4GB was actually being used, the 'Memory Usage (dedicated)' graph of GPU-Z was monitored while playing a game of COD: Black Ops III at 4K Ultra HD (3840 x 2160).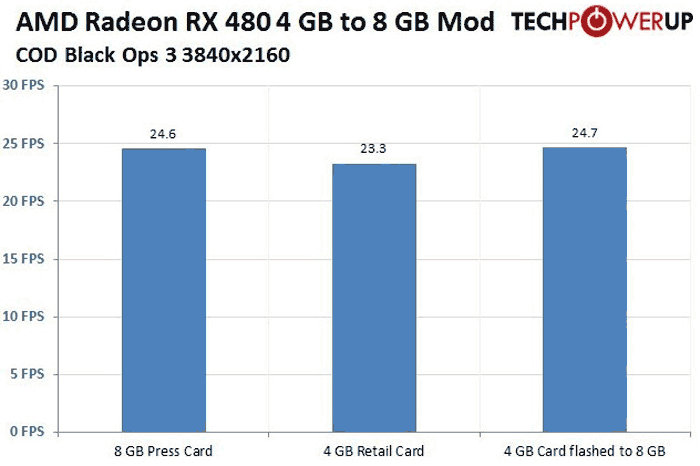 AMD Radeon RX 480 PCI-e power draw
We are still awaiting an email from AMD regarding the Radeon RX 480 PCI-e over-current issue. We were emailed on Saturday and told that a progress update would be revealed on 5th July – so it's now overdue.