AMD has PC hardware enthusiasts on tenterhooks with its impending Radeon RX 480 (and RX 470 & 460) launch and reviews release schedule. The upcoming RX 480 has really caught the imaginations of some, with many of those chatting on forums about the upcoming graphics cards' potential to offer market disrupting performance, overclocking and pricing. Meanwhile others know these mass market cards aren't for them and are looking for more substantial GPU power, with an eye on AMD's GPU architecture roadmap for the astral body beyond Polaris – that of Vega.

With Polaris on the tip of everyone's tongues right now and AMD's marketing machine obviously putting its shoulder behind this particular launch, it's not surprising Vega has taken a back seat as far as news is concerned. However AMD RTG boss Raja Koduri and his development team, look to be spending more time on Vega now than anything else, if Koduri's @GFXChipTweeter Twitter output is any indication.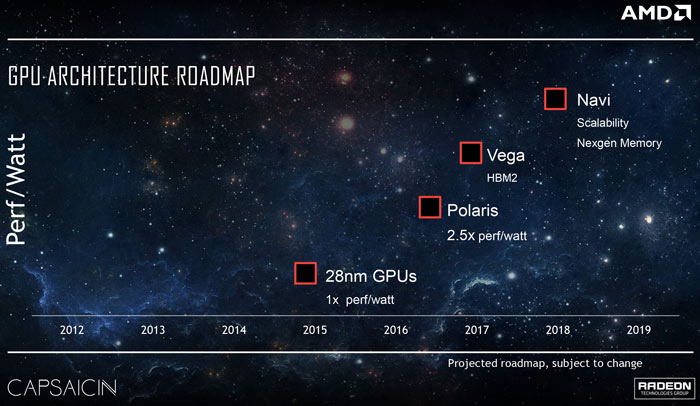 Over the last few hours Koduri has made three consecutive Tweets teasing Vega development. First of all he let us know that he was in Shanghai this week "In Vega mode!" A few hours later, a Tweet with much more substance was published concerning the Vega 10 design team celebrating an important milestone. I've embedded that Tweet below.
Design team is thrilled with your response. Celebrated a milestone with the team. Long way to go before you see it pic.twitter.com/duQVBBGict

— Raja Koduri (@GFXChipTweeter) 23 June 2016
The above Tweet was followed up by another Vega mention. Koduri shared a picture of the Shanghai GPU design team who were behind Polaris "and next Vega". Unfortunately nothing approaching specifications or expectations on what Vega will bring was shared. All we know about Vega still comes from the roadmap published back at the Capsaicin event in March. Vega is set to bring another large step up in perf/watt plus HBM2 memory, to raise it above anything Polaris powered. The roadmap indicates that Vega will launch sometime around the new year.
Radeon RX 480 won't release early
There is chitter-chatter that for various reasons, including the depth of the leaks on specs and benchmarks and so on, AMD will release sites from NDAs early, or may even release the RX 480 hardware early. Well that certainly doesn't look like it is so, with AMD highlighting 29th June as the date for its global Polaris AMA #BetterRed, just a few hours ago.