We know that AMD is bringing in its next-generation Polaris GPUs using a three-pronged approach in the first instance. The RX 460 and RX 470 come at a slightly later date than the headline act, RX 480, which launches on June 29 priced from $199 (£175) for a model with 4GB of video memory.
We also know that RX 480, codenamed Polaris 10, is built on a 14nm process from Global Foundries. It has 36 Compute Units (2,304 shaders, most likely), and uses a 256-bit memory bus allied to some fast GDDR5 memory, and AMD has quoted a maximum TDP of 150W, though retail cards may not chew through quite this much as the reference card is plumbed with a 6-pin connector.
The first indication of what retail cards are to look like came from some presumed pictures of the Sapphire RX 480 Nitro, revealing the same small PCB as the AMD original card. Die size is often a reasonable proxy of just how expensive a graphics card is likely to be in the market, because the smaller the die, the lower the overall manufacturing cost. RX 480's, and by extension the RX 470's, die needs to be small for AMD to turn a reasonable profit assuming economies of scale emanating from decent sales.
Putting this number - which is unknown at present - into some context, the current R9 390/X uses a 438mm² die while the R9 380/X makes do with 359mm², with both built on the older, larger 28nm process. Nvidia's GeForce GTX 1080 and GTX 1070, admittedly batting in a different performance league, are 314mm² on a 16nm fabrication.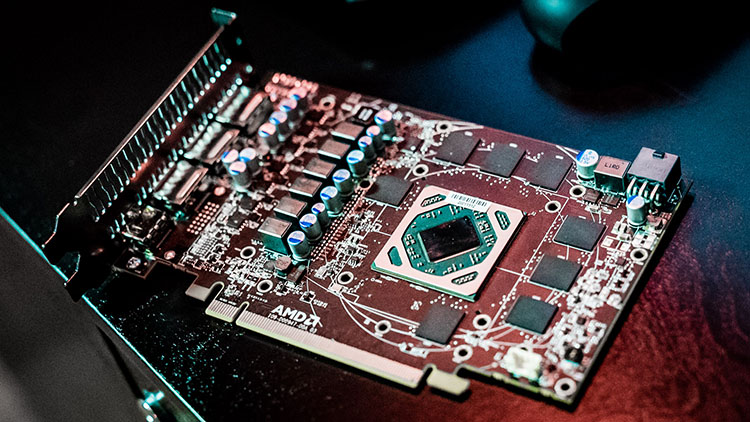 Image credit and source: VideoCardz
The reason we mention the die-size number is because the folks over at VideoCardz have scored what appears to be the first shot of a naked Ellesmere board, which is the ASIC/die behind both the RX 480 and RX 470.
With the large assumption that this is indeed an RX 480/470 board and using an old-fashioned ruler while intimating scale from the PCIe connector, my best guess is that the Ellesmere die is around 220mm², or about the same size as the R7 370 that sells for around £130. RX 480 is obviously significantly quicker than R7 370.
Of course, a die-to-die comparison isn't wholly valid when comparing a mature process against something cutting edge, plus the BOM cost of other components certainly skews the issue, but it does give us an idea that AMD isn't pricing the GPU at unsustainably low levels. Rather, Nvidia is creaming off significant profit with the GTX 1080 and GTX 1070 GPUs that we have already stated are midrange in composition.
Again, the RX 480 feels very much like a mainstream GPU, which is exactly how AMD is pitching it, so the first few Polaris chips may indeed offer the best bang and efficiency for your hard-earned buck.