At the gaming-focussed E3 show held in Los Angeles, AMD CEO, Lisa Su, announced two more graphics cards for the mainstream RX series. We already know of RX 480, along with its seemingly attractive $199 price point, and this Polaris-based card is due to debut on June 29. Now, Su confirmed that it will be joined by the RX 470 and RX 460 cards at a later date. Both are based on a cut-down version of the same Polaris architecture.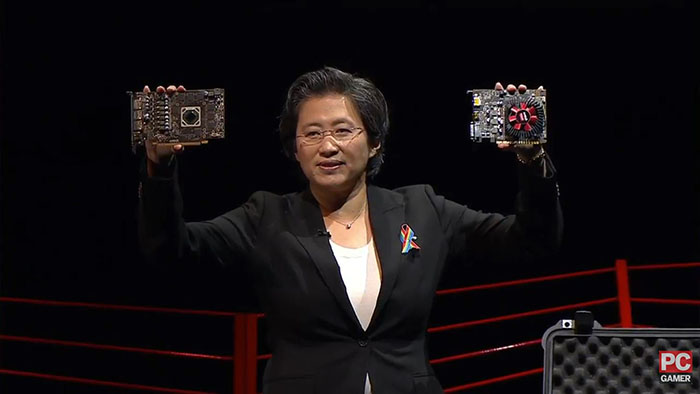 Image credit: PC Gamer
Su declined to mention specs or actual release dates for the RX 470 and RX 460, but going by the starting $199 retail price of the RX 480, one can assume AMD is further targeting the mass market with cards in the $99-$199 bracket.
With AMD pushing power efficiency to the fore, it appears as if the RX 460 is a single-slot card without the usual six-pin connector. This means it has a maximum TDP of less than 75W provided by the PCIe slot. AMD is ostensibly aiming this card at Moba players whose rendering requirements aren't as high as FPS games'. It's a smart move given the size of the market, particularly in China, so it will be interesting to see how it fares against the few connector-less GeForce GTX 950 cards currently on the market.
The RX 470, on the other hand, quite literally in Lisa's case, appears much like the RX 480, suggesting a scaled-down and frequency-limited version designed to hit a lower price and thermal point. Pricing will be key, of course, but if AMD can get it right, Nvidia will have a mainstream market-share fight on its hands.
Let the games begin.