AMD is today announcing a few high-level details on its upcoming Polaris graphics architecture.

Raja Koduri, senior vice president of the Radeon Technologies Group, used his Computex press conference to whet the appetites of enthusiasts.

First off, the premier Polaris chip for the time being, Polaris 10, is being productised as the Radeon RX 480. To be made available from June 29, the RX 480 is set to cost from $199 in select configurations - a stock-clocked 4GB card from one AIB being our guess.

This is not a big, high-end chip. Rather, AMD is targetting a larger slice of the market through aggressive pricing. What we really need to know is how the specifications correlate with pricing. Fortunately, Koduri offered some performance insight by providing said specs.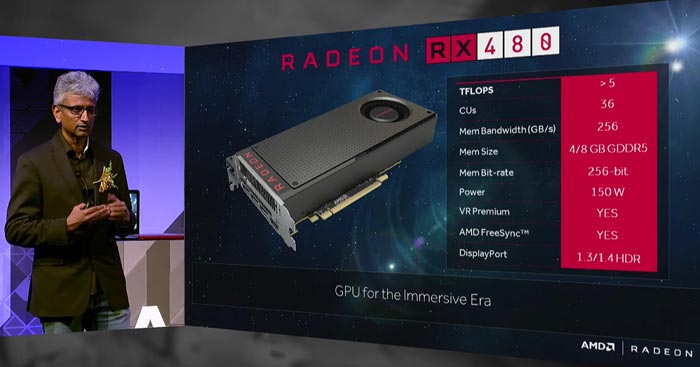 RX 480 has 36 Compute Units - we can't yet tell you how many shaders in each CU, or the speed of each - uses a 256-bit memory bus with Samsung memory operating at 8Gbps, and has either 4GB or 8GB memory.

Raja did go on to say that the RX 480 will have over 5 TFLOPS of single-precision performance and 256GB/s of bandwidth, meaning that the vital specs are between the incumbent R9 380X and R9 390 GPUs, albeit at a 150W TDP made possible by a move to a 14nm manufacturing process.

AMD is making a big push for VR with this new range of graphics cards. The killer feature, going by the specs, is the price. RX 480 doesn't compete with the GTX 1070, of course, so it will be interesting to see how the $200-$250 market shakes out in the next few months.