AMD has published a microsite which outlines the Polaris Architecture. Its headlining description of Polaris is "The Best of PC Gaming in a Single Chip". The new microsite reminds us of all the facts we already know from previous official AMD communications linked to official videos and other sites about associated technologies. However, it has been noticed that several of the pictures on the site have never been published before and appear to contain photographs of the new AMD Polaris GPUs.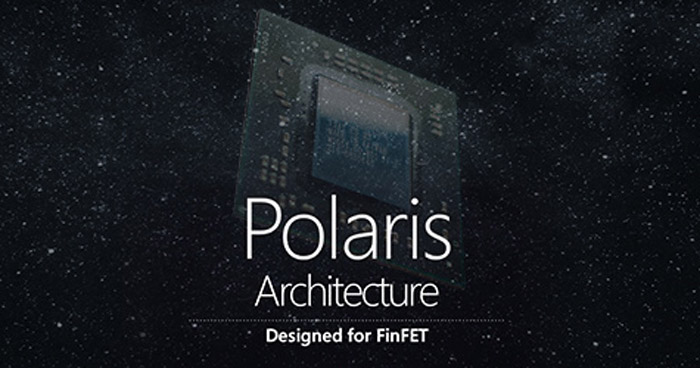 Bullet pointing the key features of Polaris as communicated by the new site gives us the following:
It's a 14nm FinFET chip
Contains AMD's advanced power, gating and clocking technologies for a superior cool and quiet gaming experience
4th-gen GCN with powerful async compute, DX12 and Vulkan support
FreeSync compatible and works with HDMI 2.0b and DisplayPort 1.3 monitors
Great for streaming and recording 4K, H.265, 60 FPS with little impact on CPU usage
High Dynamic Range (HDR) support for an expanded range of colours and contrast
Will provide VR to "the masses"
Supports GPU Open effects such as TressFX Hair, GeometrFX, ShadowFX, AOFX, SSAA, Forward+ and more
It is ready for AMD XConnect Thunderbolt 3 eGFX enclosure technology.
Now, let's get onto the new stuff. The VideoCardz guys have had a long hard stare at the images on AMD's new microsite and gone so far as extracting and removing perspective from the promo shots, to get a clear look at these intended background graphics. You will notice that the header image from the microsite (top) contains a faded chip image as its background. The image is thought to be of the AMD Polaris 11 'Baffin' GPU.

Lower down on the microsite, under the heading 4th-Gen GCN there's another image showing a slice of a closeup of another chip (pic immediately above). Though looking similar to the 'Tonga XT' or 'Tahiti' GPUs this again looks to be a new model, thought in this case to be the Polaris 10 'Ellesmere' chip. So it looks like AMD has perhaps inadvertently leaked some imagery for its upcoming pair of Polaris GPUs.
You can sign up to be notified when AMD Polaris products become available here.