AMD first officially showed a roadmap of sorts featuring Polaris GPUs back at the Capsaicin Event about a month ago. That was a 'GPU Architecture Roadmap' rather than one featuring products. Now, thanks to a slide published by VideoCardz, we have got to see a slightly more detailed, product orientated, GPU roadmap.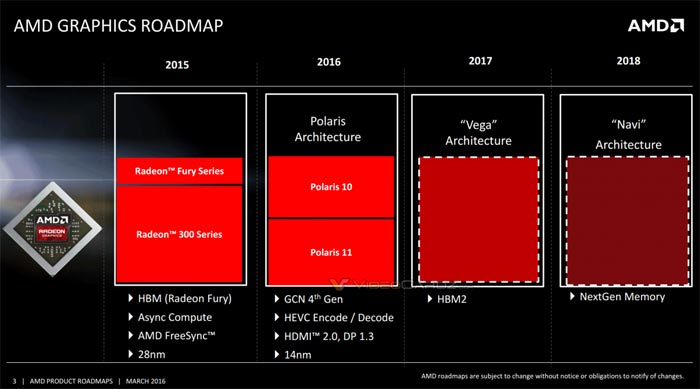 The new roadmap slide appears to show that both the Radeon Fury Series and Radeon 300 Series will be replaced by Polaris 10 and Polaris 11 GPU based products later this year. However, its more likely that there will be just no Fury replacement in 2016 - that's why there is no entry in that year on the roadmap – we have to wait for Vega/HMB2 for such a beast.
Back to the 2016 segment, we see that Polaris 10 'Ellesmere' and Polaris 11 'Baffin' look to cover all of the Radeon 400 Series products. Polaris 10 will likely cover the high end cards such as the expected R9 490X, 490 and 480 models. Meanwhile cards such as the R7 470 and R9 470 models will likely feature the Polaris 11 GPU. Confirmed by the roadmap are GCN 4th gen, HEVC encode and decode, HDMI 2.0 and DP 1.3 connectivity.
As the source report says, it would be a refreshing turn up for the books if the Radeon 400 Series doesn't contain any rebrands and it is a pure Polaris lineup. We have already seen that Polaris could be a turning point in AMD's fortunes; with touted design wins meaning new Apple Mac Computers and the PS4K will feature Polaris GPUs. Then there are expected refreshes of the Xbox One and new Nintendo console on the way.
The roadmap does seem to show speedy progress, with Vega/HBM2 coming hot on the heels of Polaris and then the mysterious Navi with 'Nexgen memory' arriving in 2018.