AMD's Polaris GPUs look set to be very popular if various news reports published earlier today pan out. Firstly AMD has "secured wins" for Polaris chips to go into new Apple Mac desktops and laptops, reports WCCF Tech. Secondly AMD will supply a Polaris GPU with 2,304 stream processors to Sony for the PlayStation 4.5 /PS4K, reports TechPowerUp.
Apple Mac wins
WCCF Tech says that its sources have "confirmed" that AMD has secured a major contract win to supply GPUs to Apple for its desktop and laptop computers. "Both of its upcoming Radeon 400 series 14nm FinFET graphics chips, Polaris 10 and Polaris 11" will be snapped up by Apple to provide its iMacs and MacBooks with energy efficient graphics acceleration, says the source.
Apple computers sell pretty well, with high margins, so AMD could do well out of this deal. No indication was given about when we will see the Polaris GPUs in Apple computers but it will likely be in H2 2016 when Polaris graphics cards are scheduled to launch.
Sony PlayStation wins
The so-called PlayStation 4.5 or 4K is going to get a shot of speed thanks to a new SoC featuring Polaris, reports TechPowerUp. The new SoC behind the PlayStation 4K, upgraded for 4K and VR gaming, will feature an 8-core 64-bit Jaguar x86 CPU running at 2.1GHz paired with a GPU with 2,304 stream processors and 36 next-gen GCN compute units.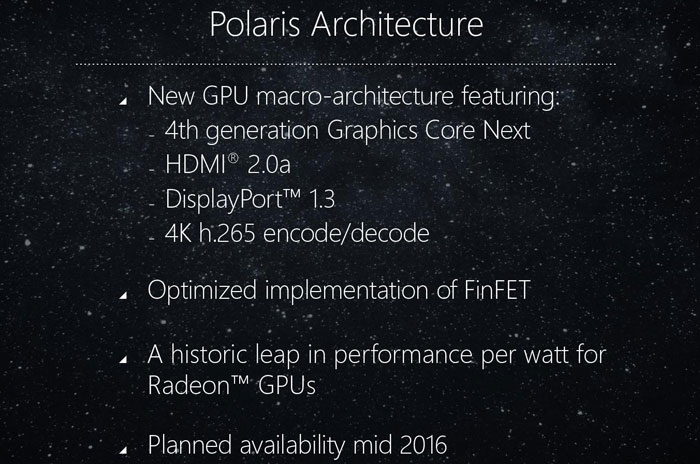 According to TPU's information dissection the GPU "sounds an awful lot like the specs of the Polaris 10 'Ellesmere' chip in its Radeon R9 480 configuration". It is notable that the stream processor count will be double that of the PS4 currently on the market. Furthermore the new SoC is rumoured to have a 256-bit GDDR5 memory interface with 8GB of memory increasing system memory bandwidth from 176GB/s to 218GB/s.
Add to the above a probable design win for AMD to supply processors for the Nintendo NX and the Sunnyvale chip designer is looking like it will thrive in the coming year.