AMD is bringing the Radeon Pro Duo to data centres and HPC circles with the AMD FirePro S9300 x2. This dual slot, full length, full height graphics card is claimed to be "the world's fastest single-precision GPU accelerator," delivering up to 13.9 TFLOPS of floating point performance. Already it has found favour with researchers at the Canadian Hydrogen Intensity Mapping Experiment (CHIME) who are using this beefy new hardware to analyse data and help them create a detailed 3D map of the largest volume of the Universe ever observed.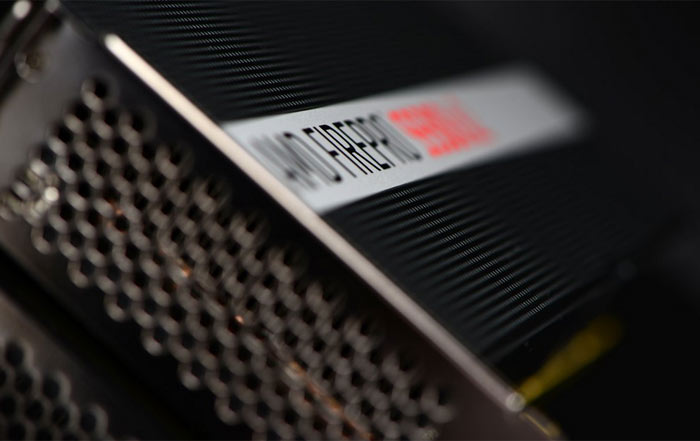 The AMD FirePro S9300 x2 is the world's first professional GPU accelerator to be equipped with high bandwidth memory (HBM). This accelerator offers 3.5x the memory bandwidth of Nvidia's Tesla M40 and 2.1x the memory bandwidth of Nvidia's Tesla K80, says AMD. It offers up to 13.9 TFLOPS of peak single-precision floating point performance beating all its rivals. In another comparison, to Intel's flagship Xeon E5 CPU, the FirePro S9300 x2 GPU is over 15X the memory bandwidth and over 12X the peak single precision performance.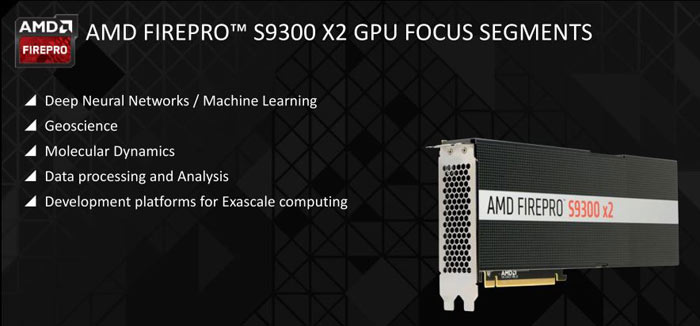 AMD trumpets its GPUOpen Professional Compute software stack, open source Linux driver built specifically for compute, and support for acceleration using C++ in addition to OpenCL as being key software features to make its accelerator eminently attractive. Another important string to its bow is the easy portability of CUDA code to C++, as mentioned in our coverage of the Boltzmann Initiative late last year.
Cooling/Power/Form Factor:
Max Power: 300W
Bus Interface: PCIe Gen 3 x16
Form Factor: Dual Slot, Full Length, Full Height
Cooling: Passive
Memory: Size/Type: 8GB HBM, Bandwidth: 1TB/s (2x 512GB/s)
API and OS Support:
OpenCL 1.2
HC (Heterogeneous Compute)
C++ AMP
Linux 64-bit
Enabled AMD Technologies: AMD PowerTune technology
System Requirements:
PCI Express based server with one available x16 lane slot. AMD recommends PCI Express v3.0 for optimal performance
Power supply with two PCIe 8-pin aux power connectors
Airflow through GPU of at least 25CFM, max inlet temperature 45C
Minimum 16GB DDR3/DDR4 system memory recommended
As mentioned in the intro, the AMD FirePro S9300 x2 GPU is already being used by the CHIME project for the intense number crunching required to map the Universe. The telescope array providing data for the project consists of four 100-metre-long cylindrical reflectors, pictured below. The anticipated map which will result from the data collection and analysis will show billions of galaxies, mapping the evolution of the Universe. The study will also enable scientists to check the impact of dark energy.

The AMD FirePro S9300 x2 GPU will ship later this quarter and has an MSRP of $5,999.