Back at Capsaicin 2016 AMD showed off a new projected GPU architecture roadmap. The first of the GPUs yet to come, Polaris, has been featured and briefly detailed by AMD due to its imminent arrival. However the presentation offered the first tantalising mentions of the Polaris GPU successors, Vega and Navi. Over the weekend we've seen the first semi-official details of Vega thanks to an AMD R&D Manager's LinkedIn profile page (since taken down).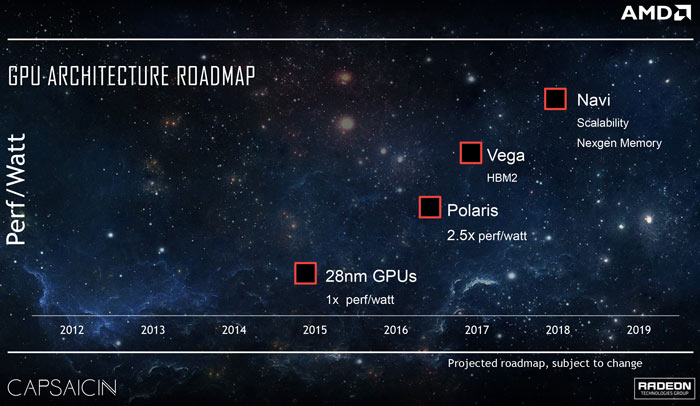 Yu Zheng, an R&D Manager at AMD Shanghai, listed the work on Project Greenland as a work experience highlight on his LinkedIn profile page. As you can see from the screenshot below, Greenland is described as "A leading chip of the first graphics IP v9.0 generation, it has full capacity of 4096 shader processor along with whole new SOC v15 architecture."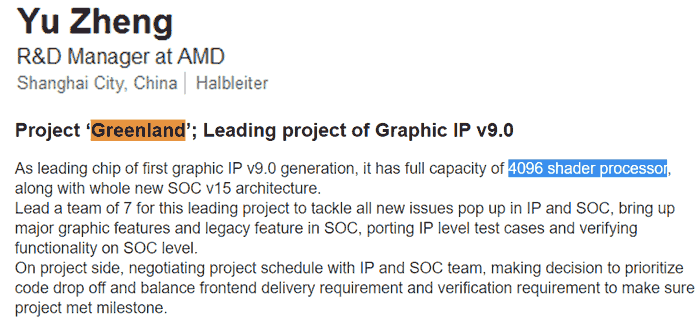 The Graphics IP v9.0 designation is thought to signify a Vega GPU in the making. While the description by Zheng mentions this is an SOC, we shouldn't conclude that he is talking about an upcoming APU here, as previously both Hawaii and Fiji chips were designated similarly. (Fiji is part of the graphics IP v8.0 family, as will be Polaris.)
With Vega following hot on the heels of Polaris, and designated as a 'HMB2' GPU by AMD, we think that Vega based graphics cards will be the successors to the HBM equipped Fiji range such as the Radeon Fury and Nano. The 4096 stream processors is the same as is possible with Fiji but thanks to the upgrade to HBM2, 14nm process and other optimisation it is estimated that a Greenland/Vega GPU based graphics cards will offer 20 to 30 per cent better performance than Fiji ancestors.
So with Greenland/Vega sporting HBM2 memory – what about Polaris? Yes, it seems like Polaris packing graphics cards will therefore feature GDDR5/X memory. In another weekend story 'leak' covered by VideoCardz this conclusion is supported by a SiSoft Sandra performance ranking profile.