While we still await shipping Polaris GPUs and Polaris GPU powered systems, AMD has revealed a GPU roadmap going much further ahead, up to 2019 or so. GPU product families following Polaris will be Vega, in 2017, and Navi, in 2018.
The roadmap, shown briefly at the Capsaicin event last night, plots AMD's GPU architecture projected release timeline against a vertical axis representing performance per watt. Presently we have AMD's 28nm available on the market which represent a baseline of 1X perf/watt according to the chart. Later this year we will able to buy Polaris GPUs which can achieve 2.5X perf/watt.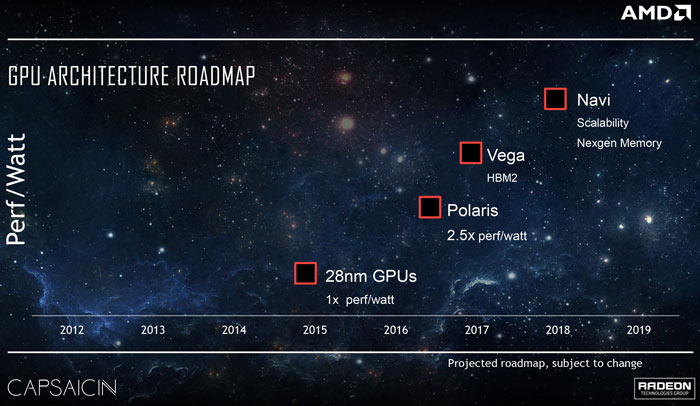 AMD Radeon Technologies Group head Raja Koduri revealed that Polaris would be succeeded by Vega - in a pretty short timescale. Vega will come out next year and employ HBM2 memory to differentiate it from the Polaris series. If you look at the roadmap chart you can see Vega boasts a perf/watt of approximately 4X current generation AMD Radeon graphics cards. (I used Adobe Illustrator measurements tools superimposed over the chart to divine this multiplier estimate.) With such a short time between Polaris and Vega the newer GPUs could well form a complimentary 'pro' range' or similar rather than be a whole range of replacements. Just as we have a big and little Polaris, Polaris 10 and 11 respectively, AMD is expected to follow a similar plan for Vega, which appeals to the diverse market segments GPUs are used in.
Following up on Vega, AMD will release Navi GPUs in 2018. This family will offer "scalability" and an unnamed "next-gen memory" technology, according to Korduri. From my rough chart overlay calculations Navi looks set to offer about 5.5X perf/watt of current generation Radeon GPUs. Will Navi be more efficient thanks to a further process shrink? Unfortunately we don't know right now how AMD will boost their GPU perf/watt figures going forward.