Just ahead of the weekend AMD's Roy Taylor Tweeted a picture of the Tiki PC by Falcon Northwest. The message along with the picture of the eye-catching pillarbox red PC teased "Another peek at the world's best DX12, VR developer box," and hash-tagged the likes of Oculus and the HTC Vive.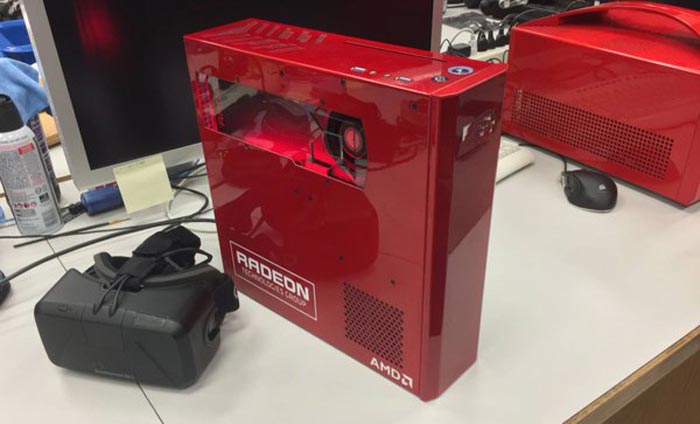 According to tech news site Tweaktown and to a lesser extent, the guys over at VideoCardz, the picture held a nice surprise - the first actual photograph of a production AMD Radeon Fury X2 graphics card in the flesh. The reveal comes courtesy of the almost omnipresent chassis design feature of a Perspex side window.
The Fury X2 is like a pair of R9 Nano cards laid out in a row so it's basically twice as long, says Tweaktown. So the Gemini, or Fury X2, whatever it may be called, should optimally offer about twice the horsepower of an R9 Fury Nano graphics card. Surprisingly it looks like this doubled up graphics card is equipped with a blower style cooler rather than a hybrid one. It is thought that a peak 300W TDP and thermal throttling should keep temperatures at bay.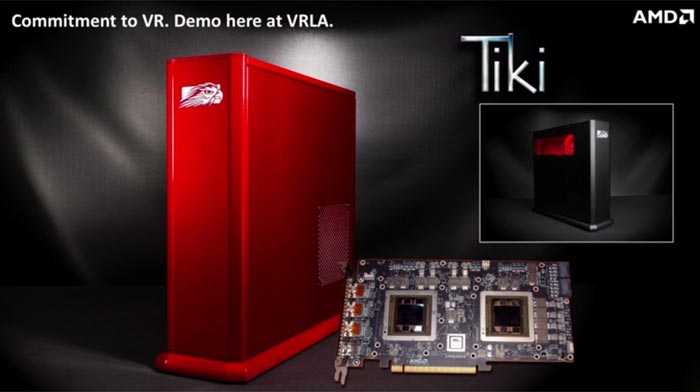 A slide from VRLA
As mentioned earlier, VideoCardz, often the source of a leak or two regarding upcoming graphics card releases, isn't that convinced the Falcon Northwest Tiki, as pictured, really is equipped with a R9 Fury X2 of anykind. Check the overlay graphic below with the R9 390(X) reference design superimposed on the shot. However, Taylor has previously demonstrated a dual Fiji system inside a Tiki PC, at VRLA. It just might not be the card in the newly tweeted picture of a Tiki, that's all.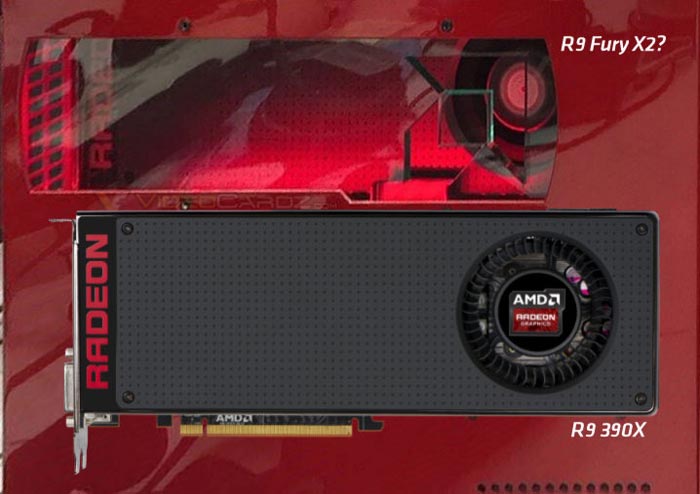 Videocardz composite image
So when will we officially see and hear more about the Gemini card? This 12TFLOPs powerhouse is expected to be on show at the GDC next month.