AMD RTG boss Raja Koduri took part in an interview with VentureBeat's Dean Takahashi late last week and revealed a few more tantalising details about the codename Polaris GPUs lined up for release later this year. The main things we can take away from the interview are that two versions of Polaris will come out in 2016; one is a much smaller GPU, aimed at small form factors, entry level and up to mainstream graphics, the other is a bigger high performance GPU aiming to take on the high end graphics card market.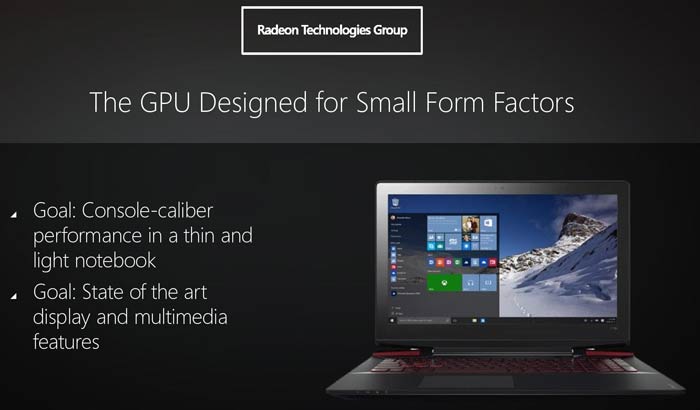 Such SFF designs will use the smaller Polaris GPU: Polaris 10
Spike it
Talking to VentureBeat, Koduri filled in some background to Polaris development. He said that the roadmap hadn't been driven by any arbitrary targets of performance and price levels, instead "we decided to do something exciting with this GPU". The design team threw out conservatism and said "Let's spike it so we can accomplish something we hadn't accomplished before."
Most revolutionary jump in performance so far
When asked about what 2016 holds in terms of Polaris releases Koduri explained "We have two versions of these FinFET GPUs. Both are extremely power efficient. This is Polaris 10 and that's Polaris 11". Power efficiency is welcome but many enthusiasts prefer to look at performance and that hasn't been neglected, as "In terms of what we've done at the high level, it's our most revolutionary jump in performance so far," asserted the RTG boss. He elaborated, explaining where much of the new performance is coming from "We've redesigned many blocks in our cores. We've redesigned the main processor, a new geometry processor, a completely new fourth-generation Graphics Core Next with a very high increase in performance. We have new multimedia cores, a new display engine."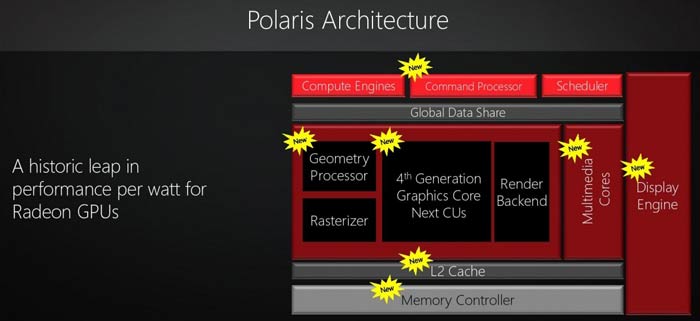 Lots of 'new' to go along with the new FinFET process
Mid-2016 availability
For consumers, starting from mid-2016, the 4th gen GCN brings HDMI 2.0, plug and play support for 4K displays and TVs, HAVC de/code on chip and great for streaming. If you are using a portable system you should also benefit from much better battery life. I'm looking forward to Computex already...