At the tail end of 2015 a solitary slide, containing very little information but a chunk of marketing-speak came our way courtesy of the Korean language Hardware Battle site. The slide talked about how stars are the most efficient photon generators in the universe but little else. However it was reputedly a slide from an AMD presentation deck for the next generation AMD GPU architecture called 'Polaris', AKA GCN 4.0. The assertion that this was a genuine AMD slide was backed up by an 'astronomy Tweet', several weeks earlier, by head of AMD Radeon Technology Group, Raja Koduri.

Now, thanks to VideoCardz, we appear to have some much more solid information, as it has published a detailed and credible range of slides. The site says that the slides show details of the Radeon 400 series which will launch this summer. As expected, Polaris will be built on the latest 16nm FinFET process and offer higher power efficiency thanks to the shrink. AMD claims, if the slides are genuine, that the Polaris architecture offers "a historic leap in performance per watt for Radeon GPUs".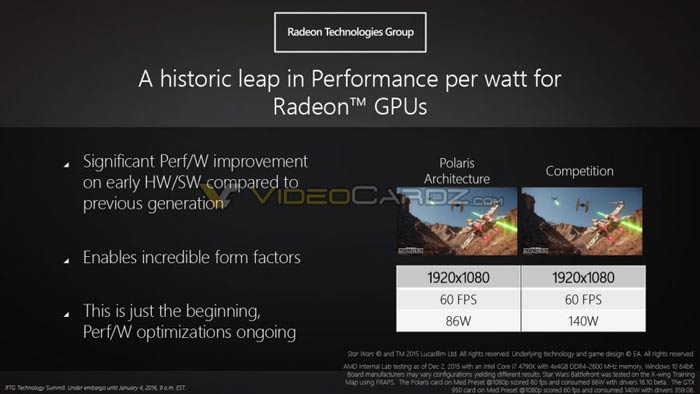 Polaris doesn't just benefit from an improved manufacturing process and die shrink, it is said that AMD will also include generational tweaks and improvements to the architecture as can be seen in the key features slide below. Furthermore AMD promises that the Perf/W improvements shown are just the beginning and further refinement of GCN 4.0 is ongoing.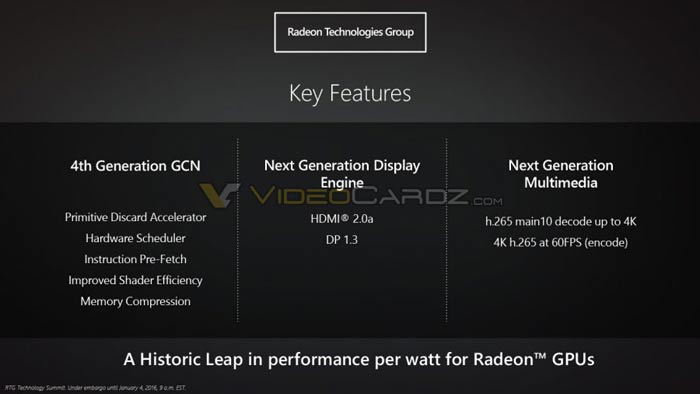 According to the source, new cards from AMD based upon Polaris are due this summer. An official release including the above slides will be published by AMD tomorrow (Tuesday), says VideoCardz. As I mentioned earlier today, Nvidia has a special event planned for Tuesday at the CES - it looks like AMD might be aiming to spoil the green team party - or will Nvidia have a similar surprise of its own to boast about?
UPDATE: AMD has just gone 'live' with this information and the above slides are indeed genuine. A video overview of Polaris is embedded below (Thanks Firejack).
UPDATE 2:
An official AMD Polaris press release has just landed in our email box, please see below:
AMD Demonstrates Revolutionary 14nm FinFET Polaris GPU Architecture
— The world's first public showcase of 14nm FinFET PC GPU technology promises more than double the performance per watt over previous generations; now sampling to OEMs —
LONDON, UK. — CES 2016 – 4th Jan, 2016 — AMD (NASDAQ: AMD) provided customers with a glimpse of its upcoming 2016 Polaris GPU architecture, highlighting a wide range of significant architectural improvements including HDR monitor support, and industry-leading performance-per-watt. AMD expects shipments of Polaris architecture-based GPUs to begin in mid-2016.
AMD's Polaris architecture-based 14nm FinFET GPUs deliver a remarkable generational jump in power efficiency. Polaris-based GPUs are designed for fluid frame rates in graphics, gaming, VR and multimedia applications running on compelling small form-factor thin and light computer designs.
"Our new Polaris architecture showcases significant advances in performance, power efficiency and features," said Lisa Su, president and CEO, AMD. "2016 will be a very exciting year for Radeon™ fans driven by our Polaris architecture, Radeon Software Crimson Edition and a host of other innovations in the pipeline from our Radeon Technologies Group."
The Polaris architecture features AMD's 4th generation Graphics Core Next (GCN) architecture, a next-generation display engine with support for HDMI 2.0a and DisplayPort 1.3, and next-generation multimedia features including 4K h.265 encoding and decoding.
AMD has an established track record for dramatically increasing the energy efficiency of its mobile processors, targeting a 25x improvement by the year 2020.