AMD is broadening the appeal of its FreeSync adaptive frame-rate technology by harnessing the HDMI connection, the company revealed to press at a technology summit last week.
FreeSync over HDMI was shown as a concept during this June's Computex trade show in Taipei, Taiwan, and its formal introduction makes sense because HDMI-enabled monitors typically start at lower prices than those equipped with DisplayPort, which is, until now, the only connection available to drive either FreeSync or rival G-Sync.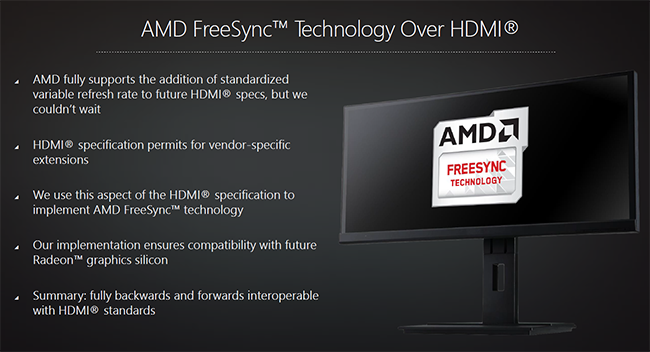 Variable frame-rate technology over HDMI hasn't been implemented thus far because the HDMI specification doesn't support it inherently, unlike DisplayPort's (1.2a) adherence to VESA's adaptive sync. So getting FreeSync or, indeed, G-Sync to work over HDMI requires additional work for both the technology provider and scaler manufacturer.
HDMI does allow for additional extensions to be introduced to the specification and this is the method by which FreeSync is introduced. AMD says that it is including specific, proprietary extensions that introduce the necessary variable frame-rate technology. Though it wouldn't be drawn into exactly what these extensions are and whether Nvidia could do the same - licensed from AMD or built from the ground-up - having cheaper monitors open to the technology can only be a good thing.
What's important to note is that these FreeSync extensions don't change the specification in any other way. Rather, with a compatible graphics card on one end and appropriate scaler/monitor on the other, the ability to run over HDMI is otherwise straightforward to implement.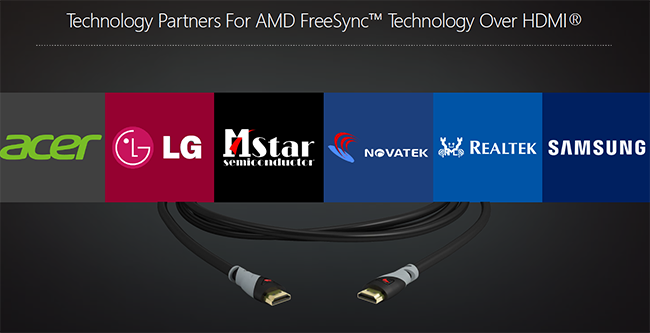 On the graphics front any Radeon card outputting over HDMI 1.2, or later, will have the ability to support FreeSync over HDMI, albeit with an updated driver. AMD says it has worked with leading scaler and monitor manufacturers to bring FreeSync to the masses. A number of publicly-available gaming-focussed monitors already have the appropriate HDMI scaler built-in for FreeSync support, although they're not currently marketed this way, so the monitor manufacturer will have to do some minor testing to ensure full compatibility.
Samsung, for example, has a number of screens that have the relevant scaler, we were told, though a 'refreshed' model will be released - which is the same internally - for this new breed of gaming displays.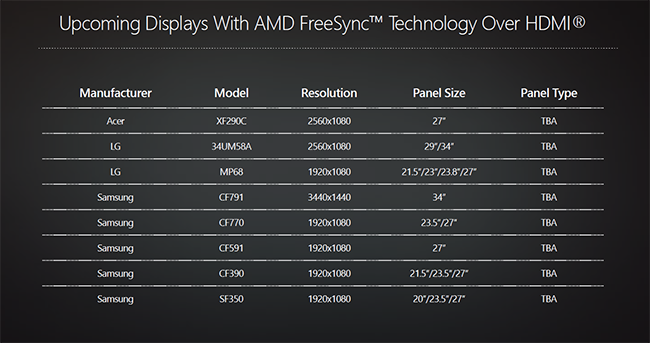 Samsung is focussing on the entry-level market with 1080p FreeSync screens over HDMI. Acer and LG, on the other hand, are looking at mid-priced screens instead. What we don't yet know is the price premium over the same non-FreeSync displays. The hope is that AMD can convince more manufacturers to release low-cost displays for wider adoption, though the company needs to strike a good balance between price and quality of FreeSync experience; there's little point in a cheap HDMI-totin' screen if the FreeSync breadth is, say, 30-60FPS.
There's obviously no support for 4K displays because AMD doesn't yet support 4K60 over HDMI - enthusiasts looking for such monitors will naturally gravitate towards the premium models connected via DisplayPort.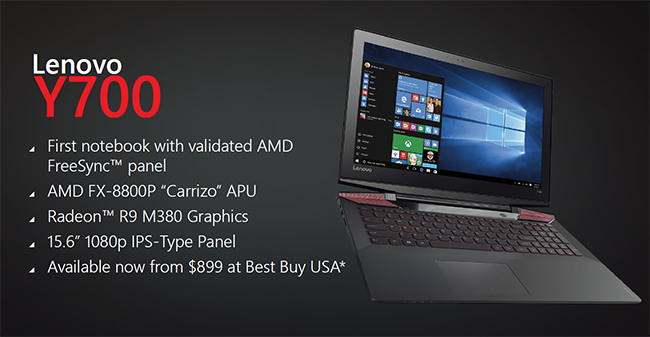 And better late than never, AMD also announced that the Lenovo Y700 is the first notebook to feature FreeSync technology.