AMD's Radeon Technologies Group (RTG) has announced a whole new initiative for Radeon graphics drivers. RTG today declared that software is as important as hardware, and has followed through on a new design philosophy to provide; an enjoyable, fast and fun EXPERIENCE, simple, powerful and modern FORM, and intuitive, innovative and interactive FUNCTION. The first fruit of these labours is the Radeon Software Crimson.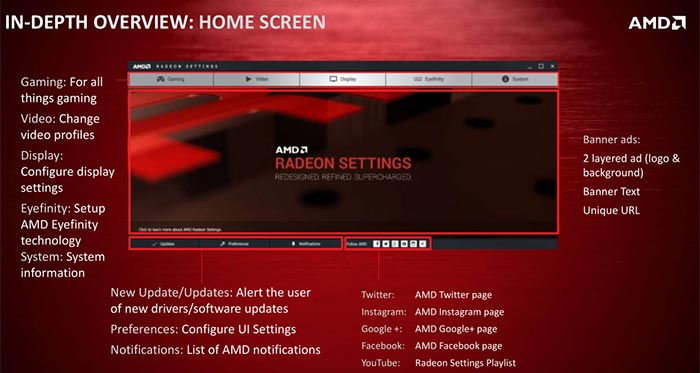 The reimagined Radeon Settings program is said to offer 'Redefined, Refined, and Supercharged' drivers for your AMD Radeon GPU. Users will be greeted by a new brushed metal UI design with a significantly faster startup time, more intuitive navigation of settings, a new game manager, new overdrive facilities and new video, display and AMD Eyefinity technology.

Specifically, AMD RTG claims that the new Radeon Setting app starts up 10x faster than Catalyst Control Center (CCC). On an HP Pavilion DM1 with an AMD-E350 APU and 3GB of RAM, AMD CCC took 8 seconds to start up, with Radeon Software Crimson the settings could be adjusted just 0.8 seconds later. For me that was the biggest irk with CCC, why it took longer to start up than Adobe Illustrator…
AMD waxes lyrical about the new UI, but it's harder to quantify its benefits without hands-on time and UI appeal is often pretty subjective. The Game Manager is said to offer single screen optimisation, so you don't have to leaf through various tabs to change the key settings. RTG says that new in Game Manager is per-game-optimisation. Overdrive, AMD's overclocking facility, has been revamped. It now offers both global and per-game-overclocking settings.
Looking at further configurable settings, users have access to new and customisable optimised video profiles, more AMD FreeSync technology, Virtual Super Resolution one-click Eyefinity settings, and GPU Scaling settings. A unified information page provides all the info you need about your system in one place.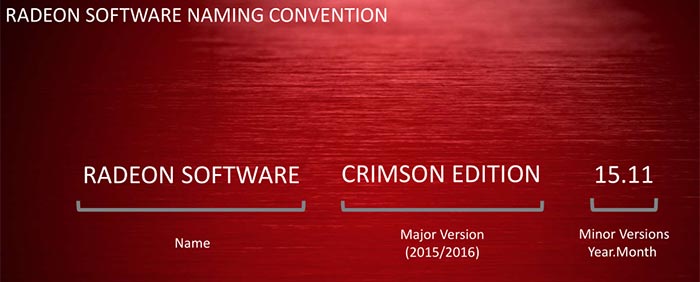 It looks like Crimson will be replaced with another dramatic shade of red as we approach 2017. We don't have official word on availability of the first release of AMD Radeon Software Crimson at the time of writing. I've uploaded the full deck of press slides from AMD, with all the current information about the new drivers, here (PDF, 3MB).