Everyone's attention was laser focussed upon the launch of the AMD Radeon R9 Nano graphics card yesterday. Of course it was the biggest news of the day, as PC enthusiasts have been lapping up any details that come out concerning this mini-ITX build compatible beastie. But AMD also 'quietly' launched the Radeon R9 370X, with availability starting in China, reports PCWorld.
Back towards the end of July we saw the first signs of AMD preparing the Radeon R9 370X graphics card to be released, thanks to some information coming out of China. It was predicted that the 370X would emerge when Nvidia had revealed its GeForce GTX 950. Nvidia launched the GTX 950 on the 20th and just one week later AMD's response, in this highly important volume selling market segment, is the Radeon R9 370X graphics card.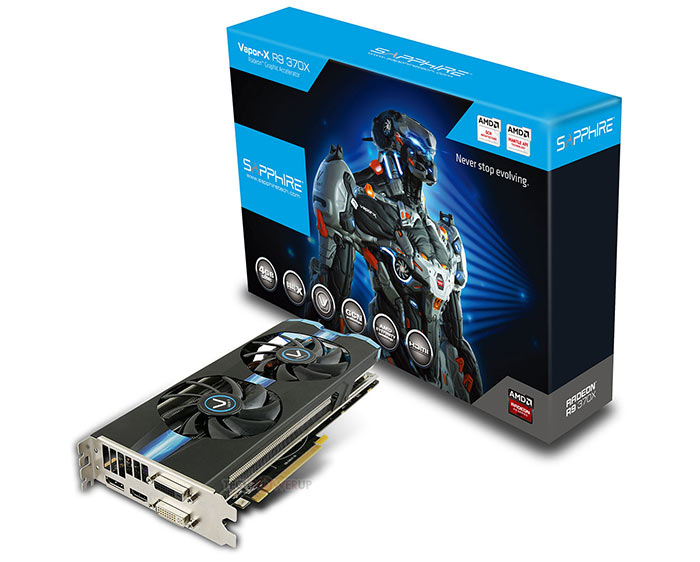 AMD doesn't have a press release about the Radeon R9 370X but it was indirectly referred to in the official AMD Radeon R9 Nano release. Thanks to the new R9 370X, AMD's Radeon R9 line of graphics cards "offers a spectrum of products ranging in price from $199 – $649 SEP" (as of 27th August).
I've just checked and there are no details about the Radeon R9 370X on AMD's own product pages. However TechPowerUp notes that Sapphire was ready straight away with a Vapour-X R9 370X product in both 2GB and 4GB GDDR5 RAM versions. I also found some images of a Sapphire Toxic version and one from XFX, embedded below.

As mentioned in our story back in July, the 370X is based upon a tweaked version of an older GPU (Pitcairn). It features 1,280 stream processors, 80 TMUs, 32 ROPs, and either 2GB or 4GB of GDDR5 memory on a 256-bit bus. PCWorld was told by AMD that the launch was rather low key as the 370X is a "regionalized product which is today limited to the China market". However it would be surprising if we didn't see it released in the west in the not-too-distant future. As alluded to above, as the entry level R9 card this 370X has a recommended price of $199.