Serial tech spec surprise spoilers VideoCardz have published an official looking AMD slide, providing a full rundown of the specs of the highly anticipated AMD Radeon R9 Nano graphics card. We had previously heard that this 6-inch highly efficient powerhouse was to launch on Thursday, the text at the base of the newly leaked slide, below, appears to confirm this.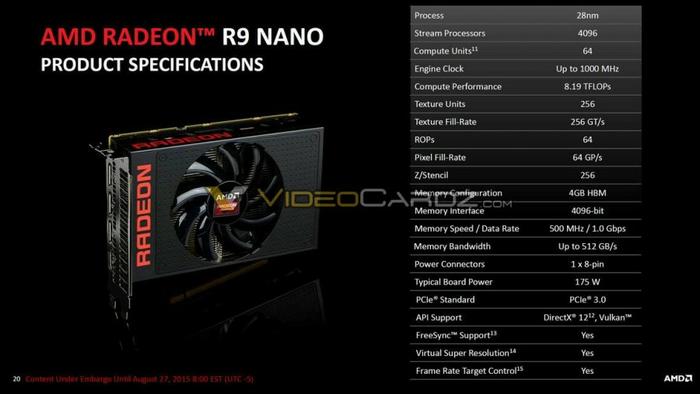 As you can see from the above, the compact Mini-ITX friendly Nano is based upon the fully fledged 'Fiji' GPU with 4096 stream processors and 64 compute units. It's GPU core clock can boost to 1GHz. The GPU has access to 4GB of HBM via a 4096-bit memory interface. Memory runs at 500MHz providing up to 512GB/s of bandwidth. Overall, buyers of the Nano will have 8.19TFLOPs of performance at their disposal. That's 1.365 TFLOPs per inch, fact fans.
So it appears that the Nano isn't stripped down from the Fury X but is just clocked slower to manage to stay within 175W typical board power, powered via the 1x 8-pin power connector.
AMD Radeon R9 Nano PCB pictured
Korean site IYD.kr has published a raft of new pictures showing the Nano from many angles. You can have a look through the collection of very clear photos on the site. While we've seen many such shots before there are a couple of pictures of the Nano taken apart which are more revealing/interesting.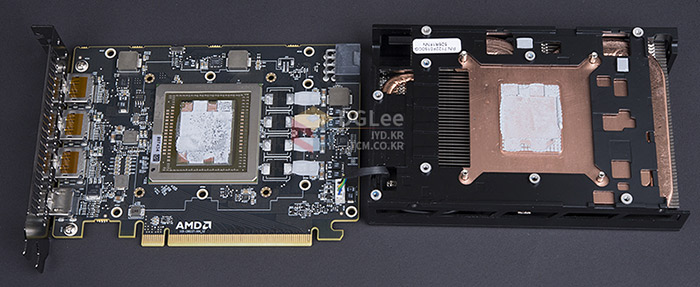 Above you can see the Nano opened up. Compared to the Fury/Fury X you can clearly see that AMD has removed the second power connector and reduced the VRM from a 6+2 phase to a 4+2 phase arrangement. Overall the component spacing appears simply to be tighter.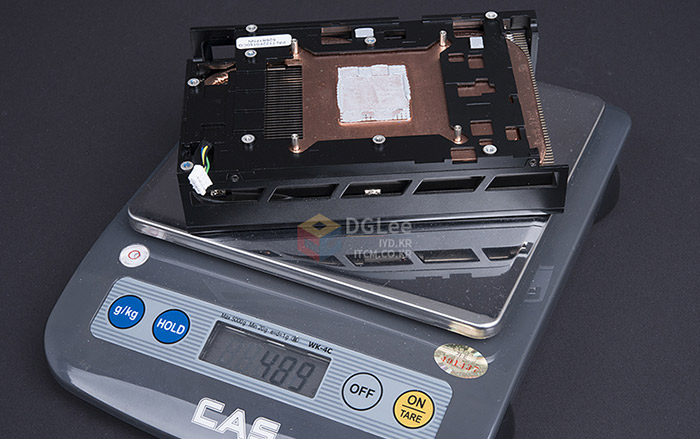 Never mind its FPS per inch, what is the Nano's FPS (and price) per Kilo?
With the above details seemingly confirmed, a crucial extra piece of information yet to be divulged is the price. Looking at the Nano's performance, adding a miniaturisation premium and considering the competition we have to wonder how AMD will price the card.