Sapphire Technology has started to ship a new graphics card worldwide, as part of its Radeon R300 lineup. The Sapphire Radeon R9 380 ITX Compact Edition has been specially developed for small form factor PCs. AMD's AiB partner claims that this model is "the only ITX board on the market using this generation of technology and delivering this class of performance". This compact new Radeon graphics card is said to be perfect for SFF PC gaming in resolutions of 1080p and beyond.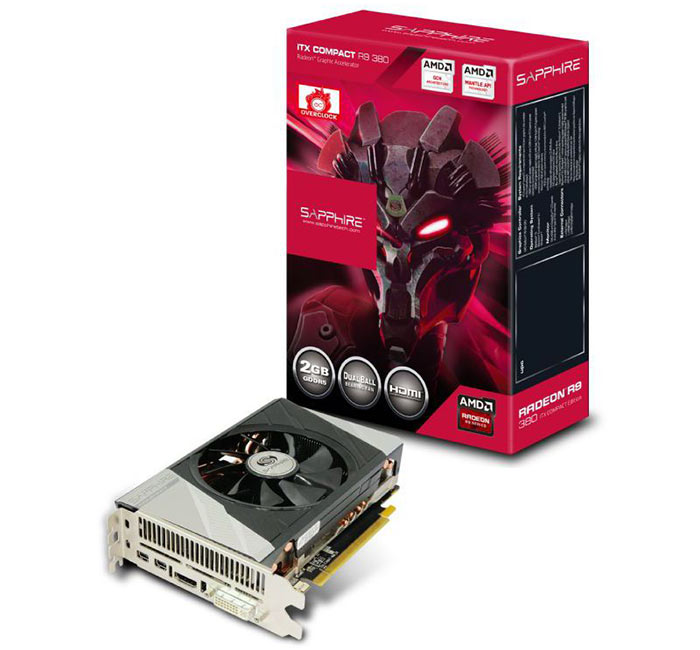 Mini-ITX systems are becoming more popular; they fit more subtly into rooms where a traditional desktop sized PC might be an eyesore, however people don't often want to go mini on performance. The rise in popularity in living room entertainment PCs and 'Steam Machine' type builds means cards like this new Sapphire R9 380 ITX and the ASUS GTX 970 DC Mini seem to be popular with readers.
The Sapphire Radeon R9 380 ITX Compact Edition is just 170mm long, it is 116mm tall and 37mm thick. It is a 2-slot solution cooled by a dual-ball bearing fan and efficient heatpipe cooler. Sapphire Black Diamond chokes are said to provide stability. This 190W TDP ITX card is clocked a smidgeon over reference speeds with a GPU clock of 980MHz, memory speed is 5600MHz effective.
The R9 380 cards are based upon the same GPU as the previous generation R9 285 graphics cards. This ITX card is a faster version of last year's Sapphire R9 285 ITX Compact OC.
Specifications
GPU: 28 nm, 1792 Stream Processors, Graphics Core Next (GCN), 980 MHz Engine Clock
Interface: PCI-Express 3.0
Memory: 256 bit Memory Bus, GDDR5 Memory Type, 2048 MB Size
Displays: Maximum 4 Outputs
Output: 1 x DVI-D, 1 x HDMI, 2 x Mini DisplayPort
Cooling: Single fan, Two-ball bearing
Form Factor: 2 Part Slot Occupied, 170 x 116.15 x 37 Dimension /mm
Power Consumption: 225W, 500W power supply recommended, 1 x 8-pin AUX Power Connector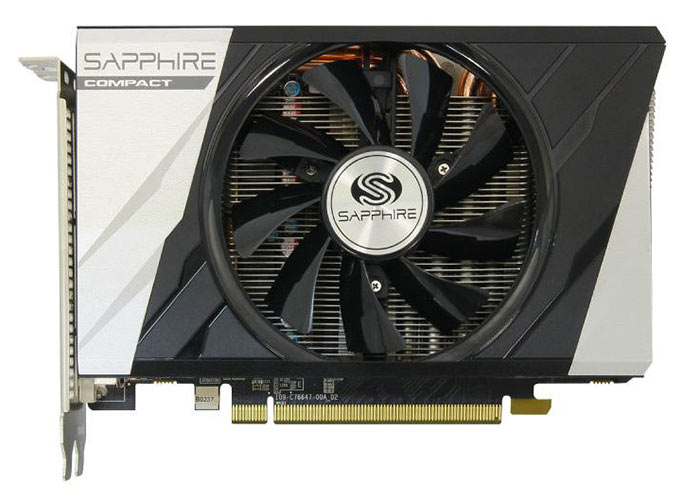 Beyond the above specs the Sapphire Radeon R9 380 ITX Compact Edition supports all the modern AMD exclusive features you would expect including; AMD CrossFire, AMD PowerTune, AMD ZeroCore Power Technology, FreeSync Technology, AMD Eyefinity, Video Codec Engine (VCE), AMD HD3D Technology, AMD Liquid VR technology, AMD Virtual Super Resolution(VSR) and AMD TrueAudio technology. Also you have support for APIs such as OpenGL 4.5, OpenCL 2.0, and DirectX 12 in Windows 10.
These compact graphics cards are already available in retailers such as SCAN in the UK, where you can find it priced at £166.