PC enthusiasts may be watching attentively for the launch of the likes of the AMD Radeon R9 Nano but there are perhaps more important AMD vs Nvidia battles to be fought first. HEXUS previously reported on the preparation of the GeForce GTX 950 and 950 Ti which should be launched to replace the GeForce GTX 750 and 750 Ti graphics cards 'shortly'. Talk and 'leaks' concerning these upcoming Nvidia GPUs have intensified since our report.
Now it looks like AMD is set to launch a competing 300-Series graphics card into this important volume selling market segment.
Chinese site EXPreview has published the specs of an upcoming AMD Radeon R9 370X graphics card. According to the site, the new Radeon 300-series graphics card will boast 1280 GCN stream processors, 32 ROPs, 80 TMUs, 2GB of GDDR5 memory on a 256-bit interface. The GPU/Memory clocks appear to be the same as overclocked versions of the AMD Radeon R9 270X at 1180 MHz core and 1400MHz (5.6GHz effective) respectively. As this newly uncovered card and the 270X have the same Device ID the only difference should be in the BIOS. AiB partners with stock of the 270X will be able to quickly update the BIOS and packaging to make this new SKU.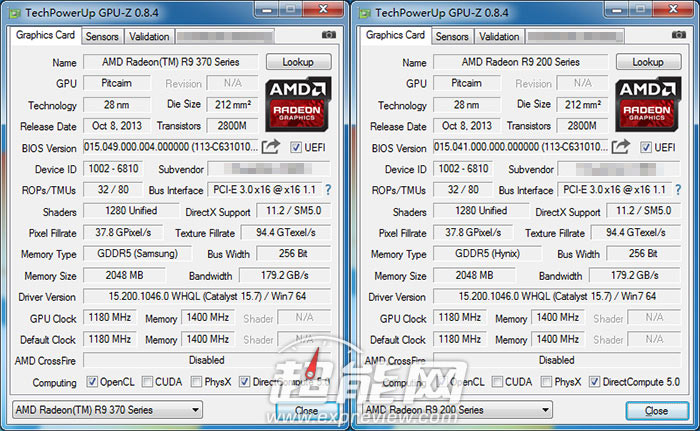 Some graphics card watchers were expecting the 370X to be prefixed by R7, like the non-X variant, but the Chinese source of this information shows it as an R9 prefixed graphics card. Nevertheless it's just a Pitcairn to Curacao to Trinidad rebrand. As mentioned in the intro, the Radeon R9 370X graphics card is expected to be launched in time to put a dampener on the Nvidia GeForce GTX 950 (Ti) launch festivities, probably in the next few weeks.