A few days ago, at AMD's conference call following its quarterly results publication, CEO Dr Lisa Su told investors that "we will be launching Nano in the August timeframe". Until that statement we only had a vague Q3 2015 launch/availability timescale from AMD. Now Softpedia is reporting that the compact AMD Radeon R9 Nano has started to ship to retailers. Furthermore a Korean blog has pictures of the upcoming mini-marvel in the flesh and has published what appear to be embargoed benchmarks for the Nano.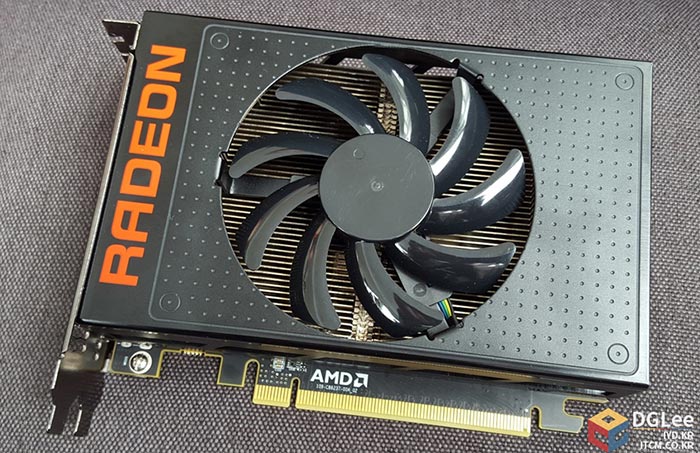 AMD's 6-inch Nano graphics card was touted, back at the 'New Era of PC Gaming' presentation in June, as a highly efficient performer. Compared with the Radeon R9 290X users could expect 2x Perf/Watt, claimed the chipmaker. This would be quite a feat to achieve as the AMD Radeon R9 Fury X based upon the same Fiji silicon only pumped out 1.5x Perf/Watt according to AMD's own data. In practice this is thought to mean that the Nano will offer similar performance to the Radeon R9 290X at around half the power draw.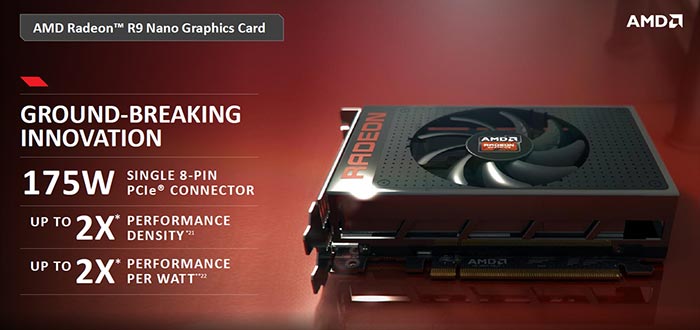 At the present time all we officially know about the Nano is embodied within the slide above. The Korean tech blog expands our knowledge of the performance available from the Nano by publishing the official-looking footnotes from an AMD slide (see below). These notes detail PC systems which are running the Unigine Heaven Benchmark in 4K (3840×2160 resolution, extreme present, 0xAA). According to the text, the Nano has an efficiency of 0.152 fps/Watt in the 4K benchmark, whereas the R9 290X has an efficiency of 0.076 fps/Watt. A simple calculation (0.152 x 175) provides the following frame rate score for the Nano: 26.6fps.

click to zoom in picture
The Nano is thought to be powered by a Fiji XT chip, like the Fury X. This may well have been cherry picked for use in the smaller card, and clocked around 850MHz according to the Korean blog. The AMD Radeon R9 Nano seems to be a fascinating product and we are looking forward to getting one in the HEXUS labs to get to the bottom of its specifications, performance and AMD's efficiency claims.