Images said to be of a Sapphire Tri-X Radeon R9 Fury graphics card, and some accompanying hardware spec sheets have been published in an exclusive reveal by serial video card leaksters VideoCardz.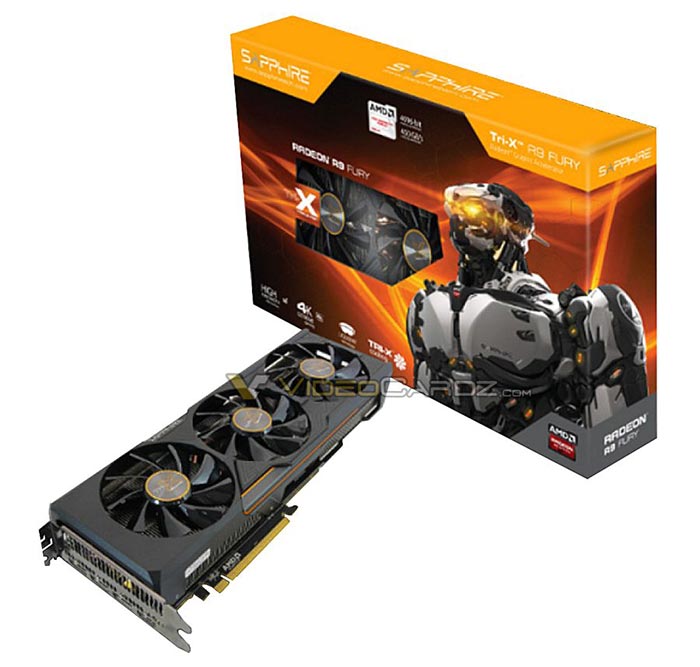 In the first pair of images we get to see the packaging and hardware of a Sapphire Tri-X Radeon R9 Fury graphics card. The cooler-side view and packaging shot above is decidedly ho-hum. It is much more interesting to see the backplate, showing Sapphire's graphic design and cooling extension framework which adds about 40 per cent to the length to the short Fury PCB, and facilitates the use of its established Tri-X cooling solution.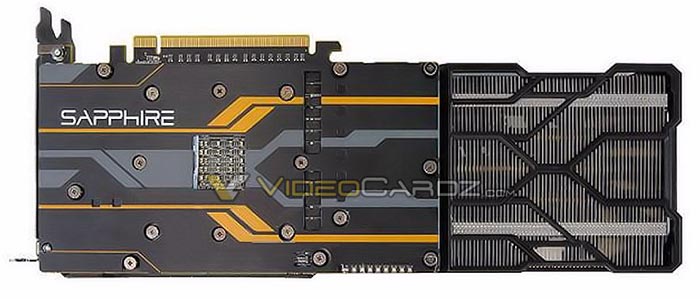 According to VideoCardz, and evidenced by the two slides below, Sapphire is preparing two R9 Fury SKUs. One with SKU number 11247-00-40G offers a 1000 MHz GPU clock speed and the 11247-01-40G SKU offers a 1040 MHz clock.
Yesterday's HEXUS story which offered up a few basic specs common to all AMD Radeon R9 Fury graphics cards seems to be confirmed by the VideoCardz sourced Sapphire product spec slides. The Fiji Pro powered R9 Fury offers 3584 Stream Cores with only 56 of its 64 compute units enabled. While the GPU core clock is a smidgeon slower than the Fury X, its 4GB of 4096-bit HBM is clocked the same 500MHz (1000MHz effective). Both Sapphire R9 Fury SKUs offer 3x DisplayPort 1.2 and a single HDMI (1.4a) port.
Click to zoom spec sheet images
These cards are expected to launch next Tuesday, according to VideoCardz. Radeon R9 Fury cards are likely to be priced around the $550 mark.