It's been nearly a fortnight since the AMD Radeon R9 Fury X graphics card review was published here on HEXUS. Since that time we have seen the usual flurry of AiB partner hardware releases, there's been some early teething troubles flagged and apparently fixed and AMD even opened up the faceplate design files to3D printing enthusiasts. But if you walk your memories back to the 'New Era of PC Gaming' launch event you will remember talk of the R9 Fury, R9 Nano and dual 'Fiji' Project Quantum PC.
All the AMD Radeon R9 Fury X cards are re-boxed and stickered versions of AMD's water cooled reference design. Now, with the Radeon R9 Fury graphics cards, AMD is allowing its AiB partners to make their own boards with custom cooling designs.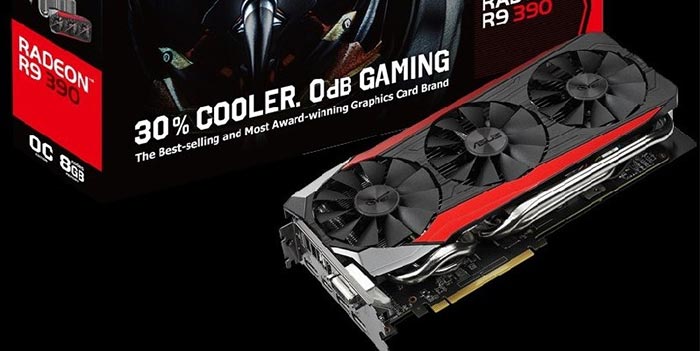 ASUS has already made a DirectCU III cooled Radeon R9 390 (and R9 380)
The first evidence of such products and their imminent launch comes via a pair of German PC component retailers. Eteknix found the ASUS STRIX R9 Fury DC3 4G Gaming graphics card for sale via a German price comparison site Geizhals.de. Computer-PC-Shop is offering the STRIX edition R9 Fury for €623.90 and AkabPC for €636.75. Both include the German VAT equivalent but not postage. The ASUS STRIX cards are sold at a premium over many rival designs so while the above Euro prices translate to £450 and $700 other AiB Radon R9 Fury cards could be cheaper.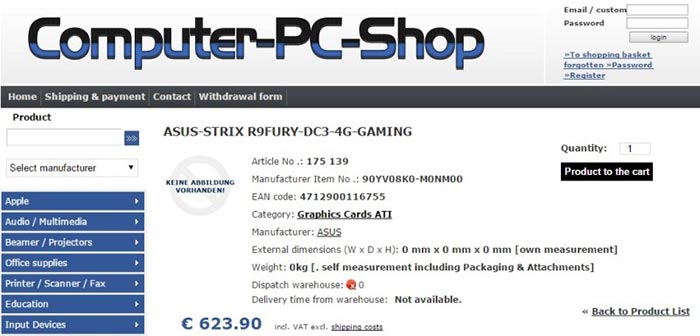 We don't know what, if anything AMD has cut from the R9 Fury X to come up with the R9 Fury. As it is meant as an air cooled product it could have lower default clock speeds, it may also have fewer stream processors or a mix of those two detrimental tweaks.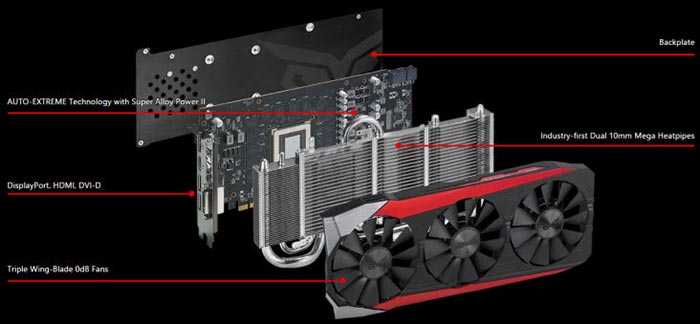 Exploded diagram of DirectCU III cooled Radeon R9 390
Coincidentally at the end of last week HEXUS covered the news of ASUS announcing worldwide availability of its DirectCU III with Triple Wing-Blade 0dB Fan equipped, Nvidia GPU based, Strix GTX 980 Ti . It would seem that somehow ASUS is strapping this 3x 90mm fan cooler onto the R9 Fury.