AMD has just finished its 'A New Era of PC Gaming' presentation from the Belasco Theatre, just down the road from the E3 show in LA. The presentation started with AMD's Chief Gaming Scientist Richard Huddy promising we would see graphics cards that he claims are;
The fastest
The most power efficient
With the best gaming partners
In exciting new form factors
With more and more affordable 4K and even 5K displays available AMD believes that the power to drive games at these resolutions should be 'equally affordable'. Furthermore the chipmaker intends to create graphics cards to pioneer the rise of VR on PCs. AMD thinks it is "uniquely positioned," to deliver PC VR experiences over the coming year.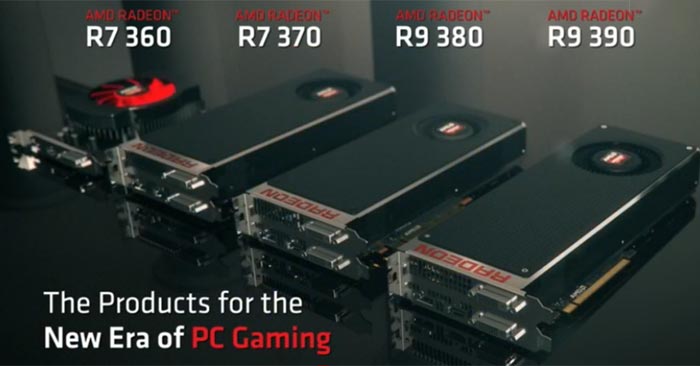 AMD Radeon R7 300 and Radeon R9 300 series
AMD's Senior Product Manager Devon Nekechuk came on stage with Huddy to introduce the latest range of Radeon graphics cards. It was first noted that every card announced today will support DX12.
Two important new technologies are coming to Radeons to improve the way they perform. Frame rate target control – more intelligent, saving power, and running cooler – this tech revolves around not rendering frames and them throwing them away, instead a card with power to spare will spend more time idling. Virtual Super Resolution – VSR – renders graphics at a higher resolution than required and then downsamples graphics for your actual screen. If you card is up to it then this can make your graphics look better.
Nekechuk detailed the purpose of the lower end of the new graphics cards as follows;
$109 R7 360, compact but good for e-sports at 1080p
$149 R7 370, faster and more memory, up to 4GB
For 1440p or higher resolutions or to make the best of FreeSync and high refresh rates – go for the Radeon R9 series, we are told;
$199 R9 380 – 1440p resolution targeting card, up to 4GB GDDR5
$329 R9 390 and $429 390X made for 4K gaming and pushing quality levels as high as possible. The R9 390 cards also make your system VR capable, as Oculus will confirm later.
The above graphics cards should be available from Thursday.
DX12 and VR experiences
Next AMD talked to Microsoft's Lionhead Studios about DX12 and the possibilities it will offer. The first games with DX12 are expected to arrive shortly after Windows 10 hits general availability.
An Oculus executive joined Huddy on stage next and talked about the demand for minimal latency on the headset and VR experiences in general. GPU performance is "absolutely critical" and for Oculus Rift the minimum recommended spec is an AMD Radeon R9 390 graphics card. Great content was promised by the likes of CCP games, producer of Eve Valkyrie.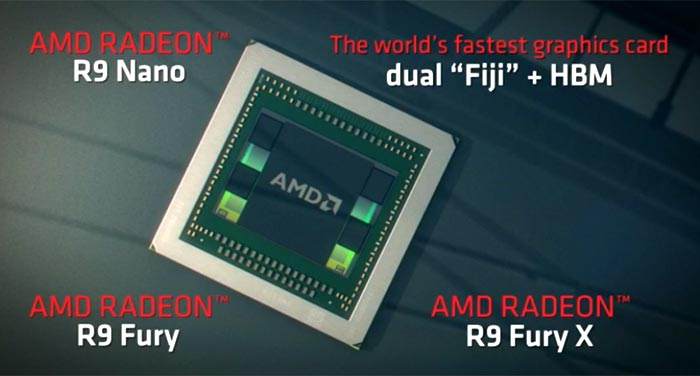 AMD Radeon R9 Fury family
Saving what we all wanted to hear about until last, AMD's CEO Dr Lisa Su came on stage to announce the Radeon R9 Fury X GPU and a family of products based upon it.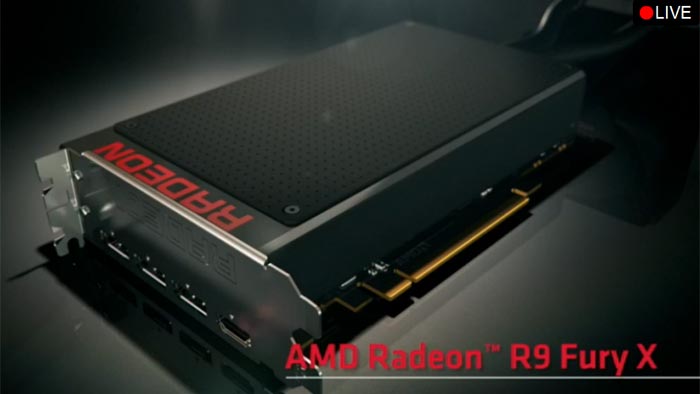 The chip that powers the Fury range, previously codenamed 'Fiji', is said to present a "paradigm shift in GPU design" thanks in part to its High-Bandwidth Memory (HBM) integrated on-chip. The 4096-bit memory interface offers 3x the performance per watt of GDDR5 in 94 percent less PCB surface area which has helped AMD produce enthusiast cards that are more compact than ever before.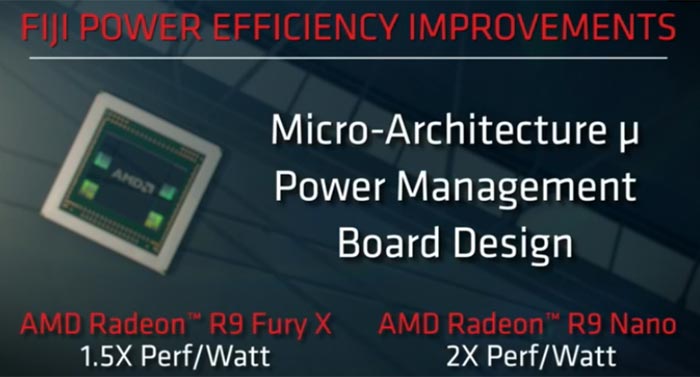 We were surprised to hear that the Radeon Fury range consists of three graphics cards and a mini PC. Dr Su claimed that the liquid cooled Fury X puts out 8.5 TFLOPs and around 1.5X better performance per watt than a R9 290X. It uses a 500W cooler to chill the "275W average consumption" GPU. The Fury X graphics card also offers eight configurable user LEDs to show the load on the card. It was further described as "an overclocker's dream".
A less powerful air (or optionally water cooled) Fiji GPU card will be called the R9 Fury. A compact 6-inch R9 Fury Nano graphics card offers "significantly more power" than the Radeon R9 290X with 2X better performance per watt than a R9 290X. The new Fury graphics products offer premium build with a black nickel exoskeleton combined with soft touch panels.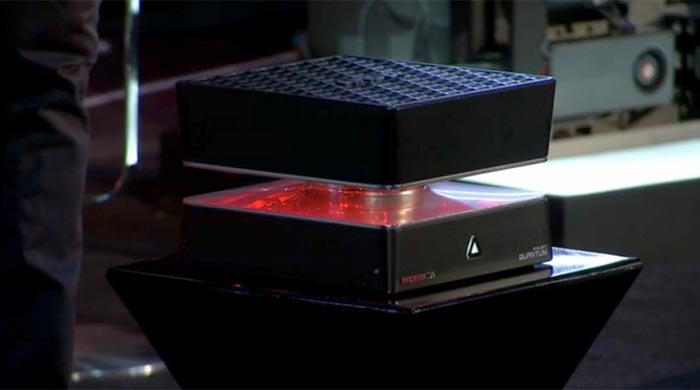 The Project Quantum 'console sized' mini PC with two Fiji-GPU processors was also launched, pictured above. We didn't hear a lot about this, but despite its compact size it was said to be an ultra powerful gaming PC – thanks to its graphics being powered by a pair of AMD R9 Fury GPUs. AMD R9 Fury products will be available as follows:
$649, R9 Fury X, available from 24th June,
$549, R9 Fury, in air or water cooled options, available from 14th July,
The R9 Fury Nano will become available in Q3 this year, and
The Project Quantum 2x Fury powered PC for 4K and VR will be made available this autumn.
More details about the above mentioned new hardware will be coming out over the next few days and of course HEXUS will be publishing all the reviews you need – as soon as we are allowed to do so.