As all regular HEXUS readers will know, the first HBM equipped graphics cards will be unveiled by AMD on Tuesday 16th June. This E3 show event, at the Belasco Theatre in Los Angeles, has been heavily trailed by AMD themselves. It is also widely expected to be the event where the 'Radeon Fury' range stablemates of the Radeon R9 300 series are officially revealed.
AMD Radeon R9 Fury X
Just ahead of the weekend, tech site PCPer was sent a quartet of pictures purportedly showing a shiny new AMD Radeon R9 Fury X from a variety of angles. The pictures fit in nicely with all the others we have seen before and the glimpses from AMD's teaser videos etc, so they could well be the genuine article.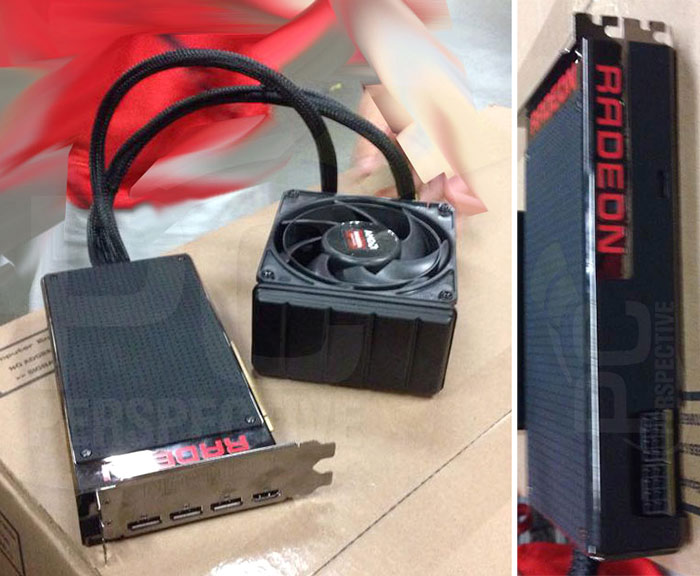 The pictures show a compact graphics card with AiO water cooling system. The substantial 120mm fan/radiator combo is estimated to be about 45mm thick. The shortness of the graphics card allows the design to vector the black braided liquid cooling tubes out of the back of the card.
From what we can see of the hardware there are three DisplayPorts and one HDMI present. The card presents a pair of 8-pin connectors atop of its frame which would allow as much as 375W to course through its veins – but it doesn't mean that much will be drawn.
Let's hope we will find out much more about the Fury X, and a rumoured air/hybrid cooled Radeon Fury card, on Tuesday evening.
AMD Radeon R9 300 Series, the spill in Brazil
Brazilian tech website TechMundo has leaked what appears to be the entire MSI branded AMD Radeon R9 300 series of graphics cards. The top of the range, the AMD Radeon R9 390X uses a GPU codenamed Grenada XT (Hawaii XT), so it's 'confirmed' as not being a Fiji powered card and being a rebrand.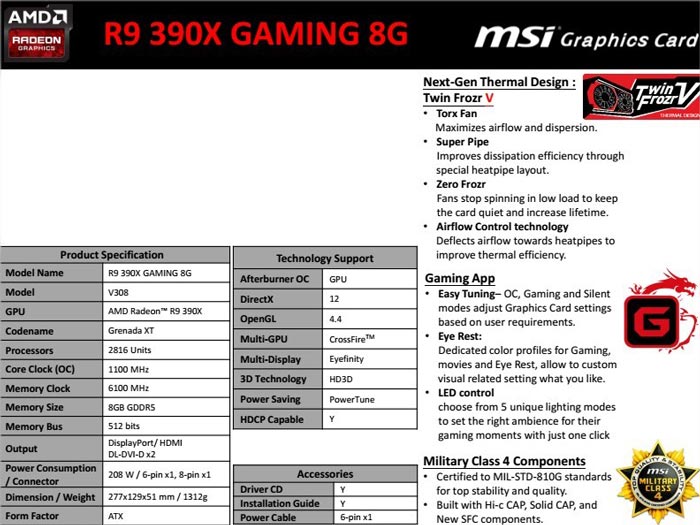 The whole of the R9 300 series follows a similar rebranding scheme. We have expected this would happen since the official OEM R9 300 series were detailed as being rebrands in early May.
TechMundo has a whole host of product and box shots and what looks like PDF excepts of the specs of the respective cards that MSI will be offering (an R7 360 2GD5, R7 370 2GD5T, R7 370 Gaming (2GB or 4GB), R9 380 2GD5T, R9 380 Gaming (2GB or 4GB), R9 390 Gaming and R9 390X Gaming). Just for reference I've included the Radeon R9 390X spec list above, and a box/product combo shot showing the MSI Radeon R9 380 Armour 2X card below.