AMD will launch its premier range of HBM equipped graphics cards less than a fortnight from now. The launch event will take place at the Belasco Theatre in Los Angeles on 16th June with proceedings kicking off at 9am PST. That coincides with the start of the E3 2015 show.
Some had thought that AMD might react to Nvidia's launch of the GeForce FTX 980 Ti by going for a Computex reveal. As any PC enthusiast will know Computex 2015 is on right now in Taipei and bristling with new tech. However that is not going to be the case, as you can see from the official AMD website announcement and invite to attend the 16th June to see "The New Era of PC Gaming".
However AMD is at Computex and Dr Lisa Su yesterday showed a small gathering of journalists the Fiji GPU package yesterday. Hardware.Fr has the best shot showing the GPU behind held aloft by AMD's CEO. You can also see a wider shot of the reveal on the AMD Gaming Facebook page. I've combined the two pictures below for your convenience.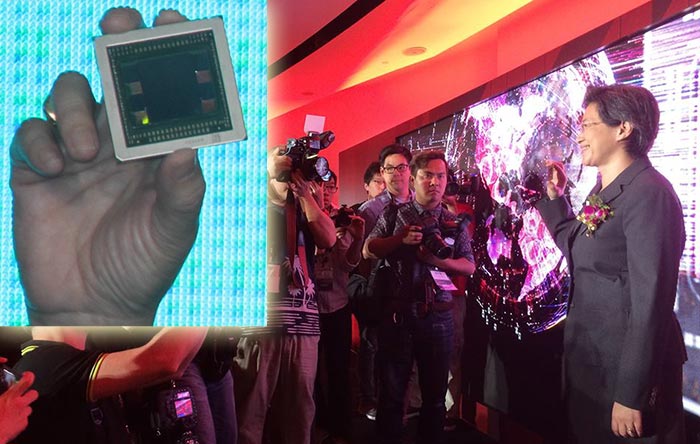 As well as the new video trailer (at the top of this article), the official website announcement and the Facebook picture of Dr Su holding aloft an HBM Fiji GPU package we have seen a few less official indicators of things to come.
The most significant early glimpse of an unannounced Radeon has been published by TweakTown. The PowerColor Radeon R9 390X Devil 13 was photographed from several angles by the site (see below). This card comes with a hybrid cooler – the GPU is cooled by water while the VRMs stay cool thanks to a regular fan. This particular card uses one 6 pin and one 8 pin connector for power.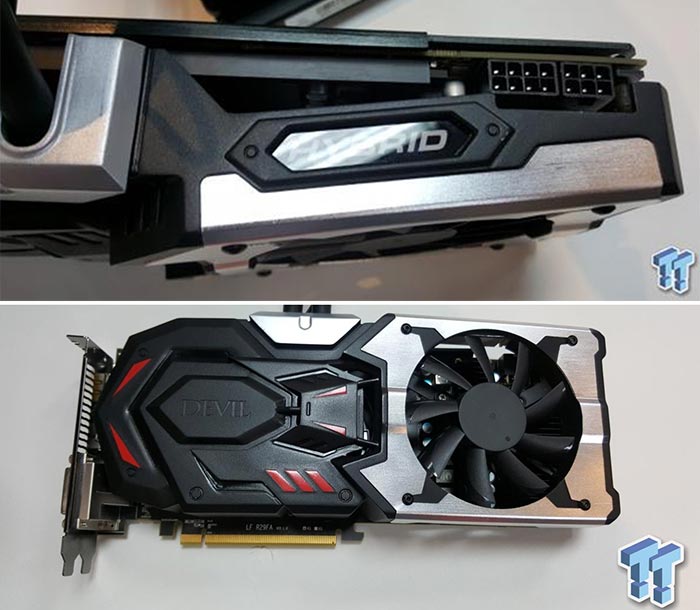 AMD Fury cards use HBM
However this isn't the AMD teased card, and neither is any R9 390X variant, according to TweakTown. The AMD teased HBM graphics cards and new flagships will be called the AMD Radeon R9 Fury and Fury X. The R9 Fury uses the Fiji PRO architecture and the Fury X uses the Fiji XT architecture, says the site. It is rumoured that the Radeon R9 Fury X has an MSRP of $849.
If you can't make it to LA for the 'New Era' AMD graphics card launch, a live webcast will be available of the one hour long event via AMD's website.