One of the world's biggest PC vendors has jumped the gun by announcing a new range of PCs with specifications including unannounced graphics cards made by chipmaker AMD. One of the PCs launched, and scheduled for availability before students go 'back to school', is the HP Envy Tower which will be configurable with an AMD R9 380 graphics card. Two new All-in-One HP Pavilion PCs detailed in the press release will feature optional AMD Radeon R7 A330 and R7 A360 discrete graphics.
On Sunday HP announced its 'back to school' PC range with updated designs, components and performance capabilities. It said the new range "Reinvents the Desktop Category". HP's Kevin Frost, VP and GM of HP Consumer Personal Systems, said "With our 2015 desktop family, we are breathing new life into the category by giving customers more capabilities wrapped in colourful and premium designs that they will be proud to place in kitchens, living rooms and other public spaces in their homes". This would help liberate PCs from basements and dens, thought the PC maker.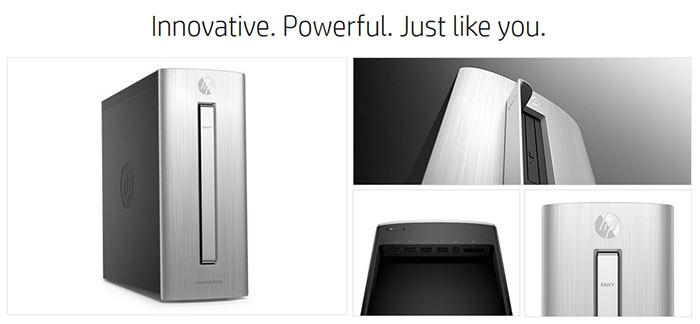 HP Envy Towers, with AMD Radeon R9 380 graphics option
The HP Envy Tower desktop PC listed as configurable with "the choice of up to Nvidia GTX 980 or AMD Radeon R9 380 discrete graphics." Among this system's very flexible build options are choices of fourth generation Intel Core i5 and i7 processors or next generation AMD A-Series A8 through FX processors.
A gaming variant of the Envy Tower called the Envy Phoenix Tower is going to also be made available with Intel 'K' series processor and liquid cooling options. The gaming tower is encased in a dark aluminium chassis finished in brushed metal, with a radiant red LED accent on the front.
New HP All-in-One PCs
HP has again listed some officially unreleased GPUs within its new AiO range for back to school season. The HP Pavilion All-in-One PCs are highly configurable for end users with 4th gen Intel processors from Celeron to i7 and AMD APU A10 and A8 choices. These 21.5-, 23- and 27-inch diagonal IPS full HD display equipped PCs all come as standard with integrated graphics. However HP says that for those with the need/desire it is possible to configure AMD Radeon R7 A330 or A360 discrete graphics.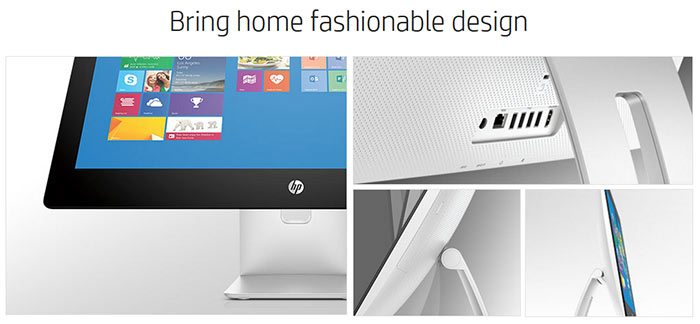 Unfortunately HP doesn't give us any technical details about what constitutes the AMD Radeon R9 380 graphics card or the AMD Radeon R7 A330 or A360 discrete graphics. Will the R9 380 be a new HBM packing graphics card or a rebrand? It's hard to know, but from HP's press blurb it could be interpreted that the AMD R9 380 graphics card stands shoulder to shoulder with the Nvidia GTX 980.
As you would expect from new HP designs, all the above mentioned PCs will come equipped with Bang & Olufsen Audio, USB 3.0 ports and card readers. For launch dates/pricing HP says the Envy Tower and Envy Phoenix Tower will be available from 10th June starting at $699 and $899 respectively. The two smaller screen sized AiOs will be available from 28th June at $649 and $699 respectively.